Aerial Drones Expose Vile Conditions On Factory Farms
<p> <em>Photo: </em><a class="checked-link" href="http://factoryfarmdrones.com/"><em>Devries</em></a><span></span> </p>
The range of abuse and the extent of suffering for the nation's millions of food animals is well-documented. That's thanks in large part to undercover videos and photos (read this recent Los Angeles Times story about a Mercy for Animals video that forced a dairy farm in New Mexico to shut down).
Now, there's more undercover footage, but it isn't of the inside of factory farms. It's on the outside. Oh, and the video is taken by drones. Filmmaker Mark Devries says for the very first time, he's used drones to gather images of the environmental impact of industrialized farms. More specifically, Smithfield pig farms in North Carolina.
Why North Carolina? "There are several counties in eastern North Carolina with the highest concentrations of factory pig farms in the world," explains Devries. "Dotting the countryside, there are thousands of farms - and thousands of giant open pits of toxic waste. It's like having a big giant open pit the size of several football fields filled with human sewage."
Per farm? "Per farm."
(Photo: Devries)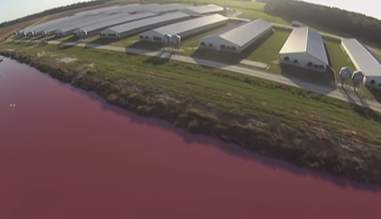 Devries says he's been using drones to capture the factory farm landscape since 2012 (he's also the director of "Speciesism: The Movie"). Partly, Devries used drones out of necessity: "The factory pig farms in North Carolina ... are kept well-hidden with trees planted all around the perimeter - and barbed wire fences."
Drones, he says, could surpass the barriers, fly to pre-installed altitude-based GPS locations, hover, and return. Plus, they're fast: "I could set up the drone, fly it, get footage and pick it up and leave in less than five minutes."
Devries believes drones are useful not only because they document farms' potential environmental transgressions, but also because they show the public that their traditional image of a "farm" and the reality is totally different: "People perceive of farms as being in accordance with the old image of Old MacDonald's - with a pasture and a small number of animals," says Devries.
But that's just totally false: "Farms in that sense do not exist anymore practically speaking in the U.S. Pigs are grown in massive factories. It can best be described as appearing like a science fiction dystopia with thousands of animals crammed together indoors in tightly controlled settings - air, lighting, food and so forth is all under the control of the factory system."
Of course, the environmental impact isn't just on the land itself, but also on the surrounding community. Devries says he made a point of speaking to people who lived near the farms (seen in the video), and said he was shocked by what he heard. "People described to me the overwhelming stench of this raw, untreated sewage. And how it would come into their homes if the wind came down into their direction and make it difficult to breathe." He said most of the people in the communities were disproportionately low-income and black. "This has been described," he says, "as environmental racism."
Smithfield promptly responded to The Dodo's request for comment about Devries' video. Kathleen Kirkham, of the company's media department wrote: "We work closely with all of our farmers to meet strict environmental management policies that encourage continuous improvement and exceed most state and federal compliance standards. Our treatment systems require sign off by state and federal regulators, and inspectors visit our farms regularly (up to four times per year) to ensure compliance. Permits and records for all of our farms are publicly available. Click here for more information on Smithfield's manure management policy."
It should be noted that Devries' drone video has come out as the controversy over ag-gag laws continues to brew. Ag-gag laws basically criminalize whistleblower activities, like undercover documentation, at factory farms. Missouri, Utah, Idaho and Iowa have ag-gag laws; animal welfare groups, legal experts and even journalists - like Will Potter, who launched a Kickstarter campaign to expose factory farm practices by also using drones - are fighting against them.
According to Matt Dominguez, public policy manager of Farm Animal Protection at HSUS, more than a dozen states around the nation have rejected over 25 various ag-gag bills. But he suspects there will be a few fights on the horizon, including efforts to implement ag-gag laws in Tennessee, Kentucky and - you guessed it - North Carolina.