Cat Loves Sledding Down Hills On His Dad's Shoulder
"Here we go, Weston. Let's hope we don't wipe out, buddy!"
A kitten perches on a man's shoulder as the two of them slide down a snowy hill, as shown in a video posted to Instagram last week.
"Here we go, Weston," the man says to the kitten. "Let's hope we don't wipe out, buddy!"
As the sled gains speed, the kitten climbs higher on the man's shoulder and sticks his nose into the wind - he looks like he's having the time of his life.
Before he was sledding down hills, the kitten - a 5-month-old tuxedo cat named Weston - lived at the Lewis County Animal Shelter in Washington. Last October, Jesse Smith and his wife Ashley went there looking for a cat with exactly Weston's markings.
"My wife has always had tuxedo cats," Smith explains. "Our previous tuxedo, Gaige, had just passed away."
Finding Weston (who has the same markings as Gaige, according to Smith) was like serendipity, and the couple quickly adopted him.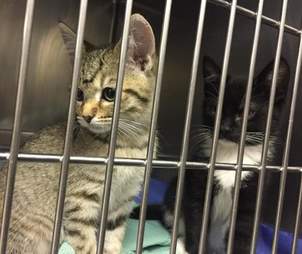 Jesse Smith
But the Smiths also fell in love with another cat, a tabby named Ellinore, who was just a couple months older than Weston.
"I couldn't say 'no' to the little kitten who was meowing at me like crazy," Smith says. "The two kittens just happened."
Gaige had been a house cat, and liked lounging around on the carpet. But the couple decided to raise Weston and Ellinore a little differently than Gaige - they wanted to see if the cats would go on outdoor adventures with them.
Jesse Smith
"My wife and I love to hike a lot, so we decided to try hiking with our cats," Smith says.
The first hike they did was a daunting 4-mile trek. They thought Weston and Ellinore would struggle, but they walked the whole thing, according to Smith.
Jesse Smith
"There were times when they slowed down - maybe they were running out of juice," Smith said. "So we'd pick them up, but right away, they were struggling to get back onto the ground. They don't want to be held - they want to be on the trail, and they want to keep walking."
Jesse Smith
After the success of this first hiking trip, the Smiths wanted to take the kittens out all the time. But then winter hit. And with winter, came snow.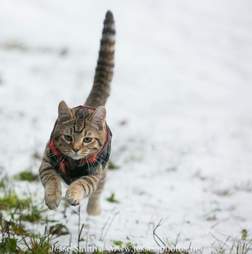 Jesse Smith
So they tried something else with the kittens - sledding.
"My parents own some property just 15 minutes out of town," Smith says. "So we went there, and there was a decent hill."
Jesse Smith
Careful not to lose track of the kittens in the snow, Smith took charge of Weston, and his wife took care of Ellinore.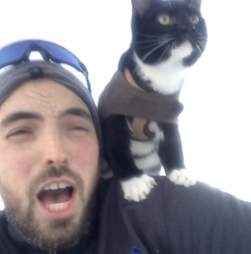 Jesse Smith
"I threw Weston on my shoulder, and took him down the hill," Smith says. "He was totally cool with it. He really didn't fuss at all. If he wasn't a fan of it, he'd be doing everything in his power to not get on my shoulder. But he had no problem just sitting there, riding to the bottom of the hill."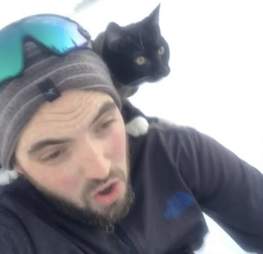 Jesse Smith
Ellinore wasn't as fond of sledding as Weston was, however. "I think the sound of the sled running across the snow kind of bothered her," Smith explains. Between sled rides, the Smiths took the kittens back to the heated car so they could warm up.
Jesse Smith
When the weather gets warmer, the Smiths plan on going on more hikes with their two adventure cats, as well as backpacking and kayaking trips.
Jesse Smith
"We're not the first people who have done this - there are plenty of other people who have taken their cats out on adventures," Smith says. "Society looks at it as kind of strange, but we really like that. It's really entertaining to talk to people and hear people say, 'Wow! I wish my cat could do that.'"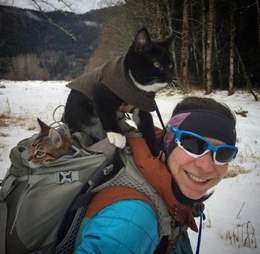 Jesse Smith
The key to making an adventure cat, in Smith's opinion, is starting them young - getting them used to a harness and leash, and taking them out as much as possible.
Jesse Smith
However, it's important to realize that not all cats are cut out for adventure, even if you do start them young. Before you take your cat into the great outdoors, you should assess their personality - do they actually like adventuring, or do they prefer to watch the outside world through the safety of a window? You also need to get the right kind of harness that will keep your cat safe and secure out on the trail, and get them used to the harness with a number of training sessions.
Jesse Smith
Thanks to the cats, the Smiths have also gained a new appreciation for the outdoors.
"In terms of hiking, we're pretty fast-paced," Smith says. "We're all about getting to the location and we cover a lot of ground. It's kind of nice to just slow down and hang out and watch [the kittens] climb some downed trees."
Jesse Smith
"When it's time to keep moving, we'll say, 'Come on, guys, let's keep moving," he adds. "And they'll come running after us. It fills me with pride of how good they do on the trail. Cats don't do this very often."
The Smiths anticipate many more outdoor adventures with Weston and Ellinore.
Jesse Smith