Ralphie, an unbelievably cute kitten, is happy to be in from the cold after he was found with his little paws frozen to a chain-link fence, stranded outside in the frigid Boston winter.
A kind neighbor heard a cat crying outside of his home in Boston's Dorchester neighborhood. When he went to check it out, he found a stray kitten stuck to a metal fence. The good Samaritan poured warm water over the tiny cat's paws until he could free him, and then brought the terrified kitten - who's since been dubbed Ralphie - to Angell Animal Medical Center, the Jamaica Plain Patch reports.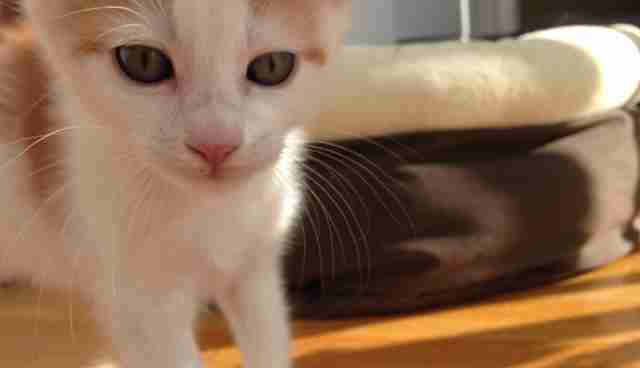 Ralphie was hypothermic when he arrived at the animal hospital, so the emergency veterinarians warmed him with hot water bottles and gave him pain medicine for his paws and swollen legs.
While he recovers, Ralphie is being fostered by one of the vets who treated him. The shelter posted this adorable photo of Ralphie chilling with his new foster sister, Rosie.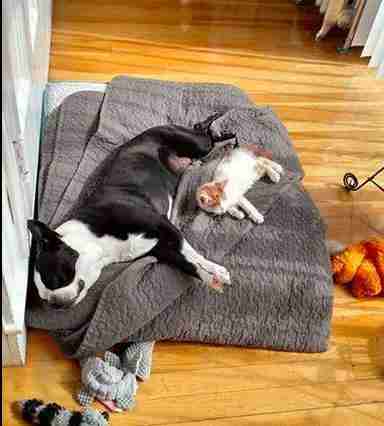 "Dr. Meagan Rock, who has been fostering Ralphie at her home since she tended to his care at Angell Animal Medical Center, reports that he is friendly, very social and loves to play with her dog, Rosie," MSPCA-Angell's Rob Halpin told The Dodo. "We're hoping to place him in a home in which there are other four-legged friends for him to play with."
Ralphie is now waiting for a forever family, and according to Halpin, there've been more than a hundred inquiries about the tiny kitten so far. But once he finds his new home, he'll never have to spend another day out in the cold.