Kitties Who Can't Wait To Celebrate Halloween In Forever Homes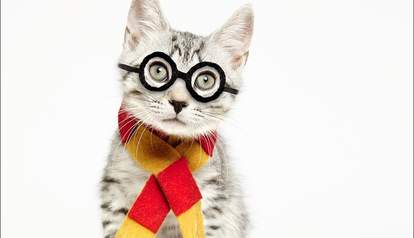 <p> Shaina Fishman<span></span> </p>
When I was introduced to Ryen Blaschke, a fashion stylist, we immediately decided to collaborate on a project to bring awareness to cat rescue. I am a commercial photographer specializing in animals and Ryen is a fashion and wardrobe stylist. We are both actively involved in animal rescue and advocacy.
Together we decided to create a light-hearted series featuring rescue cats and kittens that are up for adoption. With so much exposure on dog rescue we wanted to bring attention to the much-overlooked topic of cat rescue. Approximately 3.4 million cats enter animal shelters every year in the US. Cats of all ages and breeds can be adopted through shelters. While brainstorming ideas Ryen shared some images of felt hats that she had created for fun for her own cat. Once I saw the images of the hats I was hooked on the concept and we got to work.
Customized hats were handmade by Ryen and then I photographed them on rescued cats from Brooklyn Animal Action, in the homes of volunteers fostering the cats. All cats, deserve a loving home and a ridiculous Halloween costume, don't you think? The ongoing project encompasses popular hats such as the one worn by Pharrell at the Grammys and timeless pieces such as Robin Hood's woodsman hat.See the entire series at ShainaFishman.com
Donald Trump

Shaina Fishman
Shaina Fishman
Sorcerer's Apprentice
Shaina Fishman
Shaina Fishman
Shaina Fishman
Harry Potter

Shaina Fishman
Shaina Fishman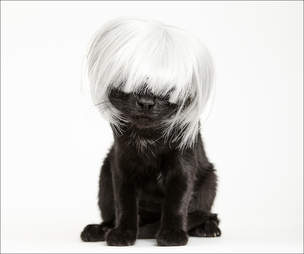 Shaina Fishman
Shaina Fishman
Shaina Fishman
Shaina Fishman
Brooklyn Animal Action is a non-profit Brooklyn-based group of volunteers committed to improving the lives of animals in distress. Working with local communities, they facilitate Trap-Neuter-Return programs, find homes for adoptable animals, perform community outreach and education, and engage in advocacy. They have re-homed over 1,000 cats as well as the occasional dog or pigeon. As an all-volunteer organization, BAA can't do any of their life-saving work without the support of caring people like you. Please check out the volunteer page to find out what you can do to help, or make a donation right now!
You can see more of my work on Instagram and Ryen's work at RyenBlaschke.com.