Watch This 2009 Wild Challis Horse Return To Wild Side, Family And Friends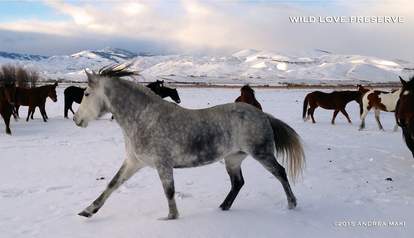 <p> <a href="http://www.wildlovepreserve.org" target="_blank">©2015 Andrea Maki</a> </p>
At Wild Love Preserve
What better way to ring in the New Year! In light of ending one cycle, and beginning another we wish to share this wonderful and breathtaking good energy which truly reflects the heart and mission of Wild Love Preserve. It is pure love and truth in being. It is Adee's story.
This winter solstice on December 22, brought a special delivery from Santa! On this very special day, Wild Love Preserve welcomed another wild Challis mare from the 2009 BLM helicopter roundup, back to the wild side with our WLP Wilds.
Adee is the third 2009 Challis wild we have welcomed back in 2015. As with the others, loving homes were had, but wild instincts ran too deep and ultimately they needed to be returned to their wild roots with family and friends, where they will forever remain together in their native region.
It was a joyous occasion to watch Adee get reacquainted with 130 of her family and friends. Keep your eye on this dappled grey beauty from the time the trailer door opens, being lead by another WLP wild to the others, kicking up her heels and the happiness in a thank you. Feel the electricity, excitement, freedom and pure joy!
Non-profit Wild Love Preserve relies on support from donors who want to see us successfully save Idaho wild horses on their home turf. Learn more about our mission and this legacy in wild horse preservation at www.wildlovepreserve.org. You can make the difference with your heart and action.