Abused Pit Bull Will Never Have To See His Owner Again
He was supposed to be sent back — but people figured out how to save him from a sad life.
Luke was just a puppy when his shoulder was shattered, and a witness said Luke's owner was to blame.
But even though the cops seized Luke and charged his owner with animal cruelty back in 2014, Luke was ordered to go back to his owner after the witness changed her story and Luke's owner got off.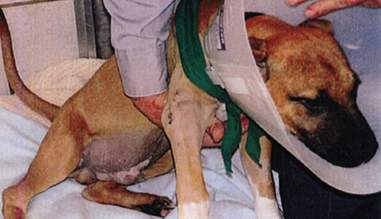 Luke just after getting surgery for his injuries in 2014

| Lycoming County SPCA
A team of lawyers, however, was determined to defend Luke from further harm. Animal Legal Defense Fund (ALDF) came to Luke's rescue, using a very clever argument to get Luke away from danger.
Because the law treats animals as a person's property, Luke's owner, the lawyers argued, had neglected his property by refusing to provide him veterinary care after his shoulder was shattered.
"If the defendant sufficiently involved Luke in an unlawful act, that would, in turn, make Luke derivative contraband," ALDF explained. Derivative contraband is property used to commit an illegal act - and which law enforcement has no obligation to return.
"So long as the law treats animals as property, it must also be willing to award them contraband status when they are subject to unlawful cruelty," ALDF wrote.
ALDF
This argument gave Luke the freedom from harm he so desperately deserves. And the ruling in the case of Commonwealth v. Kuhns has just given lawyers fighting for animals in court another tool to keep them safe.
"Luke has since been adopted, and is very happy in his new home," ALDF wrote.
To help support the Animal Legal Defense Fund's fight for animals in the courtroom you can make a donation here: