Severely Abused Pit Bull Recovering As His Fans Seek Justice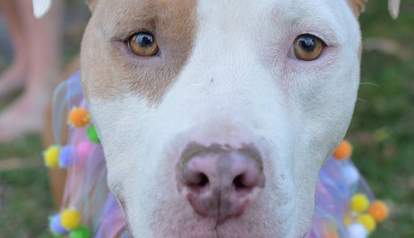 <p><a href="http://www.bigheartsbigdogs.com/">Big Hearts for Big Dogs</a></p>
A young pit bull was rescued last month from what rescuers called the most extreme case of animal cruelty they had ever seen, and the Florida community rallying around him wants his teenage abuser to be brought to justice.
Olaf - formerly known as Bullet - was seized from his home in West Palm Beach last month after a neighbor reported hearing the dog screaming from regular beatings.
When officers found Olaf, there were signs that he had been made to stand in his own filth and they noticed that he started shaking whenever his owner, Phillip Rodriguez, 19, approached him, according to local news station WPTV.
Olaf was taken to Palm Beach Animal Control, where a volunteer was shocked by his appearance and alerted the rescue group she fosters with, Big Hearts for Big Dogs Rescue. The group took Olaf in and began to heal his severe injuries.
"His condition was so alarming and upsetting that she immediately called me and said, 'We have to help this dog,'" Trinity Hansen, cofounder of the rescue group, told The Dodo. When they rushed him to a vet, they were told he would have to see a specialist surgeon immediately because his mouth was so badly damaged.
In addition to visible injuries and severe emaciation, Olaf had a shattered jawbone and cheekbone, orbital breaks and breaks in his skull. Eighteen of his teeth were shattered from repeated blows to the face.
He had to undergo a drastic 7-hour, $10,000 surgery to repair the damage to his face, and likely won't be medically cleared for another two weeks because the damage was so severe, Hansen explained.
Rodriguez was arrested last week on two counts of animal cruelty and is being held on $30,000 bail. His trial is set for August.
"When you see cases like Olaf's, you lose hope in humanity," Danielle Cannon, the volunteer who first spotted Olaf, told the Sun Sentinel.
When the group realized how much medical treatment Olaf would need, they created a Facebook page to share his story and started a t-shirt fundraiser to help fund the surgery.
Since then, "Olaf's Army," as his fans call themselves, has grown quickly. The page currently has more than 1,500 likes, and many of its members plan to attend Rodriguez' arraignment next month. Supporters have also launched a petition calling for Rodriguez to be served the maximum penalty for his disgusting acts.
Meanwhile, Olaf is thriving in his new foster home. Recent photos show a happy, healthier dog wagging his tail, hanging out with his foster mom and staring into the camera.
"He's doing fantastic for a dog that was beaten repeatedly for a minimum of six months ... he's an amazing dog," Hansen said. "He is amazing with other dogs and he is nothing but love and affection. He is just as sweet as can be."
Visit Big Hearts for Big Dogs help Olaf and other dogs like him.