Abused Pit Bull Can't Believe She Finally Has A Bed Of Her Own
<p> Jane McCroskey<span></span> </p>
The bite marks on her face, her broken legs and her ground-down teeth - all telltale signs Lola had been used as a bait dog in a dogfighting ring.
Lola was discovered by an animal control officer back in March after she was left for dead in Stark County, Ohio.
"She was found lying in a stream, caught in a bunch of barbed wire," Dr. Jennifer Jellison, a veterinarian who cared for Lola, told The Dodo. "She couldn't even get up. A humane officer had to basically crawl on his hands and knees to get to her."
Lola was brought directly to Jellison's animal hospital in North Canton, Ohio, through a special program she started that allows her to take in the worst cases of abuse and injury. Jellison pays for much of the care for these special cases out of her own pocket.
Jane McCroskey
Lola was in terrible shape when she was found - no one knew how long she had been lying alone, waiting to die. Her two front legs were broken - Jellison could see the exposed bone poking through - and Lola weighed about 25 pounds, half of what she should.
Jellison credits her staff for the excellent care they gave Lola, cleaning her wounds, caring for her and gaining her trust.
During Lola's five-month stay at the animal hospital, her goofy, loving personality began to shine through, and everyone fell absolutely in love with her.
"This dog loves everyone. This dog is so happy just to be alive," Jellison said. "She's never had a bed. When I got her a bed she was just like, 'Ahh!' She didn't leave her bed for two days."
Lola gained weight, and the bites on her muzzle healed, but her legs were irreparably damaged. Once she was strong enough, the staff at the hospital fitted her for a wheeled cart.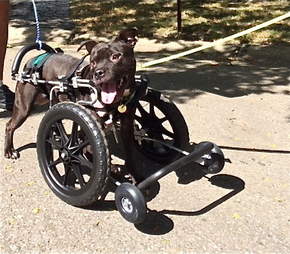 Jane McCroskey
"She's just come leaps and bounds," Jellison said. "She's like a bulldozer going down the street."
Eventually Lola was strong enough to move into a foster home, so Jellison reached out to local rescue group PAWS Ohio. There, Lola found the perfect foster mom in Jane McCroskey.
"She was just as gentle as she could be," McCroskey told The Dodo. Lola is continuing to recover and is getting better at using her wheels at McCroskey's home.
"She's learning," McCroskey said. "She goes farther every day."
Jane McCroskey
Lola loves kids and people, and got along well with a little dog she met at the vet, but McCroskey's big Lab makes her nervous.
"I think our dogs probably remind her of the dogs that injured her," McCroskey said. Lola will need a loving and patient forever home to help her heal, but both McCroskey and Jellison are confident the right family is out there.
"I don't know how dogs have such a power to forgive," McCroskey said. "She would do great with a family."
Enter your email to receive a free Dognition Assessment, exclusively for Dodo readers:
Enter your email to receive a free Dognition Assessment, exclusively for Dodo readers: