Like many of the dogs saved by Second Chance Rescue, Olive had a rough start - when the New York City-based rescue met her, she had an eye injury that could only have happened from "from blunt force trauma to the head."
The little brown pit bull had been abused and mistreated, and like many dogs who wind up in shelters, Olive might not have even known what it was like to have her own toys or a comfy bed. Despite it all, she was still sweet and trusting.
Second Chance rescue posted about her story on their Facebook page, saying, "When we saw you our hearts shattered. We knew you had to have gone through hell."
But after getting the care she needed from her rescuers, Olive's story got a new happy ending - this week she went home with her forever family for the first time.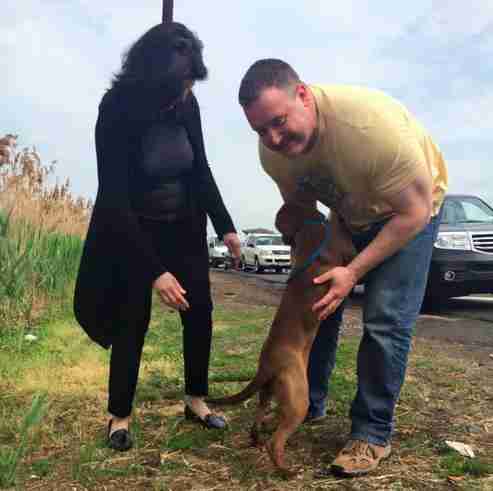 "You have found the most amazing family who couldn't wait to hold you in their arms," the rescue posted. "Your mom and dad are wonderful people and we are just so blessed to be part of your journey. Happy life sweet girl. Never look back!!! We love you!"
Olive posed for a family portrait with her new mom and dad ... it's almost like she knows she's going to a home filled with nothing but love, toys and comfy beds.
Good luck Olive!
If you're ready to give a rescue pet the happy ending they deserve, search for an animal on Petfinder or contact a local rescue today. You can help other dogs like Olive by donating to Second Chance Rescue.