It all began with a foul stench.
Last November, Detroit police officers conducted what was supposed to be a routine check on a parolee. But they were not prepared for what they found.
"Once they entered this house, they saw Starla in very poor condition, along with another young dog that we called Twinkle," Theresa Sumpter, director of the Detroit Pit Crew Dog Rescue, told The Dodo.
"Once these officers started going through the house, they discovered another dog in the basement that was deceased just laying in a crate," she said.
Two more deceased dogs were found in the garage. At the time, the parolee was hit with charges and the two surviving dogs were sent to the rescue to be rehabilitated.
Upon arrival, Starla, the older of the two dogs, weighed only 24 pounds. The 4-year-old pit bull was obviously malnourished, with her ribs jarringly visible.
"When we got her, she was terrified," Sumpter said. Even more shocking was the fact that Starla's ears had been cut short for unknown reasons.
"Twinkle was easier to get adopted, as the suspect had only had her a couple of days," Sumpter said. "She hadn't been there long enough to be in such bad shape."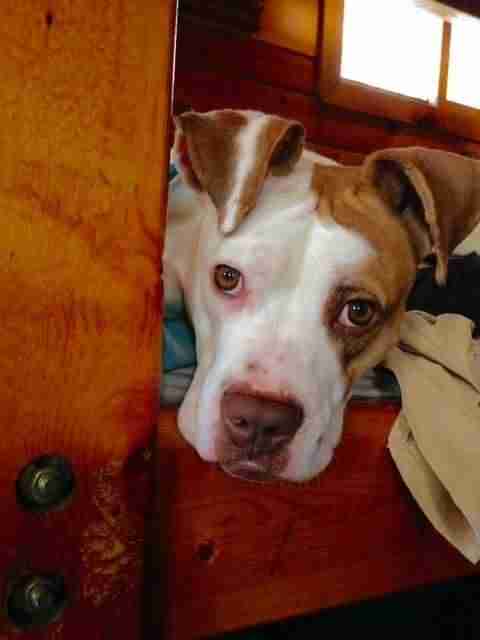 Starla, on the other hand, with her thin body and cut ears, had a much harder time finding a new home.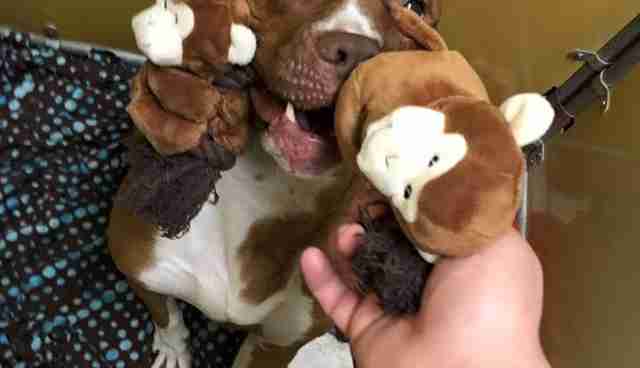 But under the rescue's care, Starla grew to a healthy weight and slowly came out of her shell to reveal her true colors - an absolute sweetheart wanting nothing more than affection and someone to play with.
It was only a matter of time before a family would see just how deserving she was of their love.
"We transferred her to our friends at Al-Van Humane Society on Thursday in hopes that she would be adopted this weekend," Sumpter said. "We were so happy to say she was adopted [on Saturday]."
After waiting for months, and after all the abuse she had endured, Starla couldn't have been more excited to go home for good.
Want to help the Detroit Pit Crew Dog Rescue continue doing good work for animals in need? Consider making a donation here.