Friendly Dog Found Tied To A Rock In The Ocean
This is the only place in the U.S. with ZERO animal cruelty laws — and you can help change that.
The dog had been tied to a rock in chest-deep water off the coast of Saipan - the most populated of the islands making up the Commonwealth of the Northern Mariana Islands, a U.S. territory in the western Pacific.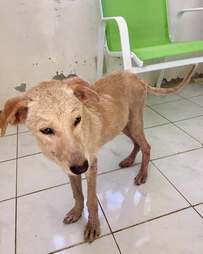 Gunnar Coffman
He'd been there long enough that small sea organisms, like snails and crustaceans, had attached themselves to his fur. It was incredible he hadn't been attacked and killed by the reef sharks often seen in the area.
"In the tropics it's not uncommon for small sharks to cruise up and down the shallows of reefs and beaches for food," Gunnar Coffman, the boat captain who found and rescued the dog about a week and a half ago, tells The Dodo. "The sharks are sometimes only two feet in length, but it only takes a couple bites."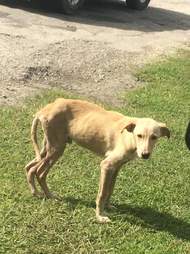 It took several days for Gunner to allow himself to be approached

| Gunnar Coffman
Once untied, the dog ran off. Coffman put out dog food and water; he was sure the dog must be hungry and terrified. He assumed the dog was injured. It took three more days for the dog to allow anyone to come close enough to rescue him.
"It was just a matter of time before a car would've ran him over. If he was mortally wounded he should pass away humanely not being tied up underwater or by a car tire," says Coffman. "That was truly my motivation."
The dog finally allowed himself to be caught. He was brought to Saipan Cares for Animals, a nonprofit that provides vet care and adoption services for the island's stray and mistreated animals. He was named for his rescuer: Gunner. (The different spelling was an accident, but has stuck.)
SCA's president, Beth Pliscou, says Gunner has a host of ailments, including mange and "rubbery bones" caused by malnutrition, that cause him not to stand straight.
But his prospects, at last, are promising. Good food and medicine will ease Gunner's medical problems - hopefully, within a couple of weeks. Then, he'll go up for adoption.
"He is a happy puppy and will make a good pet," says Pliscou.
What Gunner likely won't see is justice.
That's because the Commonwealth of the Northern Mariana Islands does not have any animal cruelty laws. It's the only U.S. state or territory without any such law - a fact that helped earn the territory the very lowest spot on the Animal Legal Defense Fund's annual ranking of each state and territory's legal protections for animals.
"American Samoa has very little - misdemeanor only," says ALDF attorney Lora Dunn, while the Commonwealth of the Northern Mariana Islands "is the only jurisdiction that is silent as to animal protection laws. Representative Ed Propst introduced an animal cruelty bill in 2015 that would have changed things."
That bill was proposed in the wake of a shocking video, which showed a man repeatedly smashing a dog's head into the cement columns of a beach gazebo.
"While the public called for this man to be arrested, we discovered that there were no animal protection laws in place and that what he did was not against the law," says Propst.
His bill was passed by the CNMI House of Representatives. Then it didn't make it out of the Senate.
It's been less than two years since SCA got off the ground. Founder Jason Hudy tells The Dodo that in that short time, "we've seen many terrible cases" of cruelty, some worse than tying a dog to a rock in the ocean.
One cat, whose head was split open, somehow survived. Now her name is Hope.
The puppy below was just brought into SCA's shelter this past weekend. Her family returned home after being out for a few hours, to find their beloved pet having been sliced up with a knife.
The need is great, Hudy says, for legal recourse.
"If any of the individuals were caught doing the above, they would have no consequences for their actions," he says.
Propst, who was reelected in November, tells The Dodo he will introduce another bill in this upcoming legislative session.
More than 1,300 people have signed an online petition calling for the bill's passage; Propst is urging the community's animal lovers to continue to let the Commonwealth's lawmakers know they support animal cruelty legislation.
"We continue to have cases of animal abuse and no one can be prosecuted for it," he says. "This needs to change."
Here's where you can sign the petition showing your support for the passage of an animal cruelty bill in the Commonwealth of the Northern Mariana Islands.
Donate to Saipan Cares for Animals here.