When rescuers first found her on the streets, sweet Hazel was heartbroken - literally. Volunteers with Lola's Lucky Day, a Houston-based rescue group, found her roaming around Crosby, Texas, earlier this month.
"We figured once she was safely off the streets she would never face another difficult moment in her life," Krystell Castillo, one of Hazel's rescuers and her current foster mom, told The Dodo. "Sadly, we were mistaken."
On Tuesday, Hazel collapsed, unresponsive. Castillo rushed her to the veterinarian, where an X-ray caught something that vets had missed before - the gentle brown dog had a bullet lodged in her heart.
Sadly the bullet is too deep to be removed. It's something Hazel will have to live with for the rest of her life - a constant, physical reminder of her painful past.
Despite all she's been through, Hazel still just wants affection. "She has had a rough life but has never stopped being loving," Castillo said.
Now Hazel is being treated for other medical issues, including heartworm and an infection, but the bullet will have to stay where it is.
"To this day, she wants nothing more than to love and be loved. She has a gentle soul and a lot of love to give," Castillo said. "Everywhere I take her people admire her beauty and are stunned when they hear that she was shot in the heart and lived to tell her story."
This story is a reminder that, even after enduring unbelievable cruelty, dogs are forgiving, constantly hoping for a human to give them the love they desperately crave.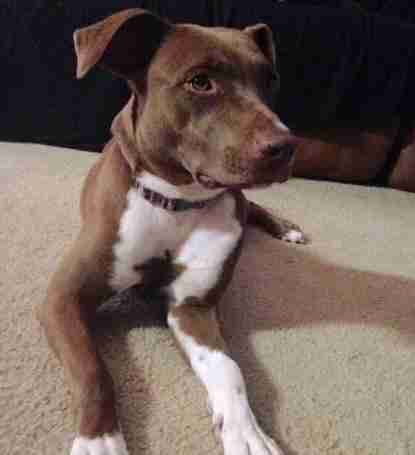 Hazel is getting all the care she needs, and, while she's still fragile, Castillo is optimistic for her future.
"That girl is a fighter let me tell you," she said. "Hazel, along with other dogs that have been vetted, fostered and adopted through Lola's Lucky Day are so appreciative of finally being loved and cared for you would never know that a human had previously treated them so poorly."