Dog Survives Terrible Abuse — Then Changes The World
Doug James still remembers the night he saved the puppy who would end up changing history for animals.
Warning: Disturbing image below
"The little dog was blazing from the tip of his nose to the tip of his tail," James said, describing the moment he found the burned puppy.
The person held responsible for the crime - dousing the puppy in lighter fluid, hanging him from a tree and set him on fire - would only get 6 months in jail.
But James took in the puppy into his home and helped him heal.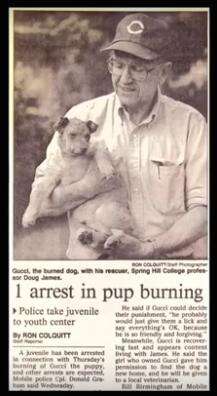 This was back in Alabama, in 1994. And despite his injuries, Gucci survived - and James took it upon himself to speak on the dog's behalf. For 16 happy years, the pair worked to change how animals were treated in the eyes of the law.
"Instead of assaulting the viewer with images of abused animals, we chose to tell what is ultimately a positive and uplifting story of one victim who went on to become a hero," explained Director Gorman Bechard in a press release provided to The Dodo. "This is a triumphant tale. Gucci might begin his life as Blackfish, but he's a fighter, and in the end he becomes Rocky."