Cat Whose Neck Was Broken Gets An Adoring Family And A Special Wheelchair
<p> <a href="https://www.thedodo.com/cats-sticking-their-tongues-out-1036875752.html">Facebook/Emersonacatwithalotofheart</a><span></span> </p>
Emerson is proof that even after suffering at the hands of humans, animals are still eager to love - and now he's found the devoted humans he deserves.
When Emerson arrived at the Houlton Humane Society in Houlton, Maine, it was clear that he'd had a rough life. "A lady found him, and when he was checked out by our vet, it was determined he had a broken neck, spinal cord damage, broken ribs and what looked to be chemical burns on his feet," the shelter's director, Heather Miller, told the Bangor Daily News.
Ten-year-old Emerson's injuries left him paralyzed below the waist; unable to walk, move his back legs or go to the bathroom. But his sweet and loving personality was left intact, and Miller couldn't help but bring him home herself.
With the help of his new family, Emerson learned to use a specially designed wheelchair. Because of his paralysis, he has to wear a diaper. Miller outfits him with special onsies to make sure everything stays in place.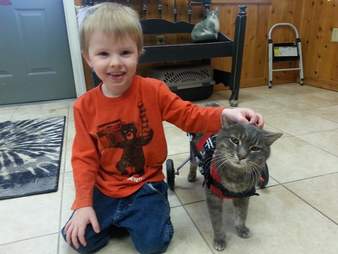 Emerson comes to work with his mom, where he serves as a mascot and greeter at the Houlton Humane Society. He's won himself a lot of fans, and Miller told the Bangor Daily News that she's known around town as "Emerson's mom."
Emerson also has 14,000 followers on his Facebook page, and the Millers have even received gifts, including a newer, lighter wheelchair for him. Emerson probably doesn't know why he gets any special attention, though.
"He is my heart, my baby boy," Miller said. "He has so much personality, and he doesn't know he's different."