Pit Bull Has Only Ever Fought One Thing ... And She Won
You wouldn't know Abby just survived the battle of her life.
Not with those bright eyes, bouncy ears and that come-hither tongue, poking out just to her left.
Then again, this 9-year-old pit bull mix is hardly a fighter. Like most pit bulls, she has never hurt anyone in her life.
"She's goofy and lovable and crazy," Nicole Wertz, her owner, tells The Dodo.
But she did fight, just once, like there was no tomorrow. That's because there often isn't a tomorrow when it comes to dogs and cancer.
Now, this brave heart has one.
Nicole Wertz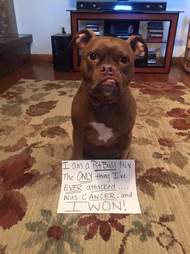 Nicole Wertz
Abby's road was a long one, but through it all - and culminating in a successful surgery - her enthusiasm for life never waned.
Posted on the Facebook page for Second Chance Rescue NYC Dogs on Thursday, it's a testament not only to a remarkable triumph over disease, but also stereotypes.
Nicole Wertz
Nicole Wertz
Pit bulls, a loose designation for several breeds including the bull terrier and American Staffordshire terrier, are all-too-often mischaracterized as menaces.
Of course, nothing could be further from the truth.
Nicole Wertz
Nicole Wertz
What remains a menace, however, is the marauding rate of cancer among dogs.
The disease claims the lives of roughly half of dogs over the age of 10, according to the National Canine Cancer Foundation. The cost of treating cancer, as for humans, can also be enormous, with radiation therapy costing up to $6,000.
If you would like to make a donation to help dogs facing cancer, click here.