A heartbreaking photo of a rabbit who kept vigil at his dead mate's side shows why it's so dangerous to dump unwanted pets on the street.
WARNING: Disturbing content below.
The black and white rabbit, whom rescuers named Maslow, and his matching mate had apparently been "set free" earlier this month by an irresponsible owner who didn't want them anymore.
Unfortunately, Maslow's mate didn't survive for long. She was tragically hit by a car and died in the middle of a Hayward, California, road. But her partner stayed by her side. A photo taken by rescuers show him sitting alert a few yards away from her, keeping watch over her body.
The Bunny Burrow Rabbit Rescue, which posted updates of the rescue attempt, said that Maslow was "very distraught" when he was first spotted.
Rabbits can form very close bonds with their mates, as this little rabbit's devotion shows. When they're separated, or if one dies, the survivor can become very depressed and even stop eating.
One of the rescuers recovered the body of the female rabbit, whom they posthumously named Hope, and gave her a proper burial. Though Maslow ran away from rescuers, he later returned to the street to look for her.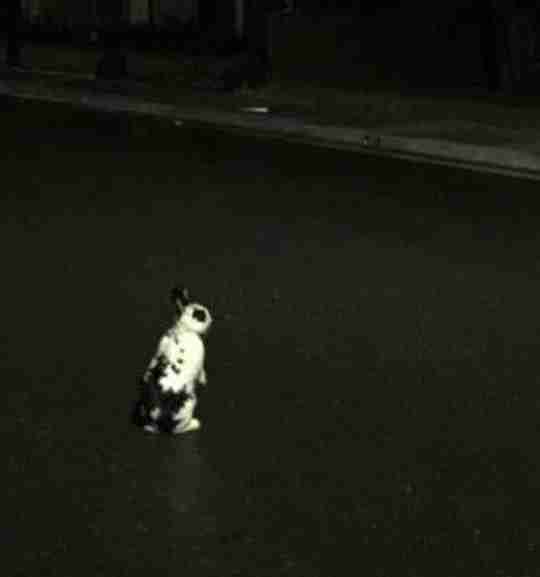 It took several days and an hour-and-a-half-long vigil to capture Maslow, who was understandably very spooked.
With Easter coming up, rabbit rescues are preparing for a flood of unwanted Easter bunnies. Unfortunately, many people dump unwanted rabbits at high-kill shelters where they're usually euthanized, or just "release" them into the wild.
But domestic rabbits can't survive in the wild, and most of them will survive only a few days before falling victim to predators or accidents. This sad story shows the perils of adopting a pet you're unprepared for.
Fortunately, Maslow still has a shot at a happy life. Right after he was taken in, he was adopted by the woman who helped lay his mate to rest. He was introduced to her two rabbits and is enjoying the welcome company.