A litter of 14 puppies was found crying at the bottom of an El Paso dumpster - and it's only thanks to their loud whimpers that they're now safe in foster homes.
"They were all on the verge of heat stroke, and ravenous. Given their condition, I'd venture to guess that they were dumped sometime in the middle of the night, and found the following afternoon," Humane Society of El Paso's Ryan Coulehan, who is fostering two of the pups, told The Dodo.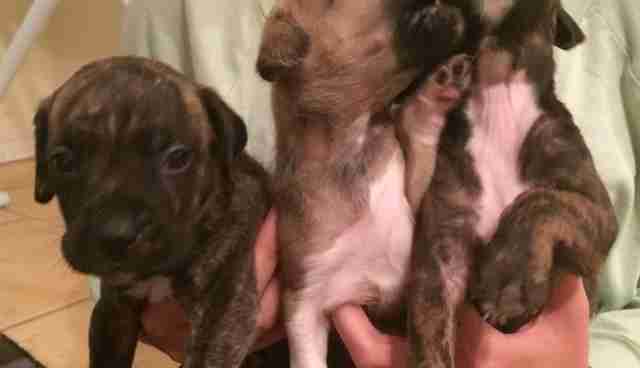 "The pups were no more than three weeks old when they arrived, which means their vision wasn't even fully developed," Coulehan said. "Luckily for them, they could not fully comprehend what was happening; all they knew was that they were hot and hungry, and wanted their momma."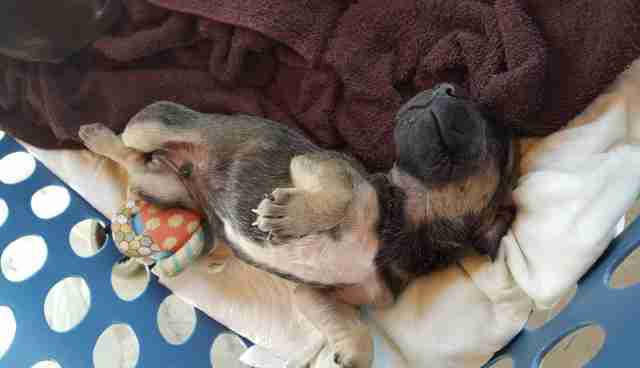 Almost as soon as the puppies were taken to the Humane Society, they went to caring foster homes - where they are already forgetting about their terrifying time in the bottom of a dumpster.
Coulehan explained that their personalities are already starting to shine through. "It is truly heartwarming to see them grow up happy puppies, despite the cruelty they endured," she said. "The more time I spend with my puppies, the less I can comprehend how someone could possibly have done that to them."
Translation: "hello world! I'm three weeks old, and my 13 siblings and I were found in a dumpster, thrown out like last week's leftovers! Luckily a very nice person found us, and brought us to the Humane Society. We've all been placed in foster homes, and I for one am just so happy to be alive!" ❤️❤️❤️❤️❤️❤️❤️❤️❤️❤️❤️❤️❤️ We could not save the lives of little ones like this without our amazing foster parents! If you're interested in fostering visit our website https://www.hselpaso.org/ways-you-can-help/foster-a-pet. We also wouldn't be able to provide for them without donations to our foster department! If you can't adopt, foster or volunteer you can always help by donating and being an advocate. You can find our foster wish list on our website!
As soon as the puppies are old enough, they'll be adopted into forever homes. But Coulehan and other rescuers are left wondering about the cruel person, or people, who left them to die.
"If I did have to face the person who dumped these little ones, the one question I would want answered is, 'Why?' There are dozens of other options, all of which would have been better than leaving them to die among trash and filth."