Abandoned Kitten Travels 600 Miles To Find His Forever Home
<p><a href="https://triciaannemitchell.com/" target="_blank">Tricia Mitchell</a></p>
<p><a href="https://triciaannemitchell.com/" target="_blank">Tricia Mitchell</a></p>
When Tricia Mitchell and her husband, Shawn, saw a man carrying a tiny black kitten through a market in Lviv, Ukraine, they figured he had just adopted him and was taking him home.
"I had cheery visions of him perhaps taking him home to surprise a jubilant family member," Mitchell told The Dodo. "Instead, the man walked behind steel-gray dumpsters and dropped the kitten into a pile of mixed leaves and trash."
That was how the couple met Cocoa the kitten.
Mitchell and her husband have traveled through more than 60 countries over the past several years, and have seen too many homeless pets to count - but this was the first time they'd ever seen one abandoned right before their very eyes. It left them speechless, and wanting to help.
"As nomads who have by choice been without a home base the past three years, we knew we were in no position to become pet parents to the little one, but we also couldn't leave the kitten on the street," Mitchell said.
The couple took the terrified kitten back to their apartment with them, and set about getting him veterinary care. They learned that he was about 6 weeks old. They took care of his vaccinations and flea and de-worming treatments and got him microchipped.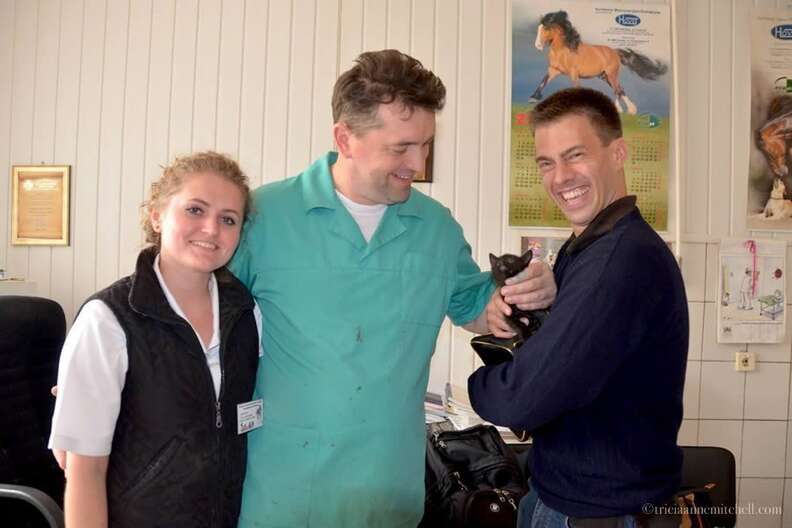 Since they couldn't keep him themselves, the couple decided to bring Cocoa back to Germany with them, where Mitchell's parents lived. They knew they had enough family and friends there that they would surely be able to find someone to take the little guy.
After getting Cocoa his very own passport, the threesome set off on their 600-mile journey towards finding Cocoa a new home.
As it turns out, Cocoa was born to travel. He had no problem riding trains and buses, and loved watching the world go by through the windows. "Cocoa was a fantastic travel buddy, and a good sport considering we were always on the move," Mitchell said. "During the time we spent inside buses, streetcars, taxis and trams, Cocoa would peek out from our protective hands, eliciting warm smiles from travelers."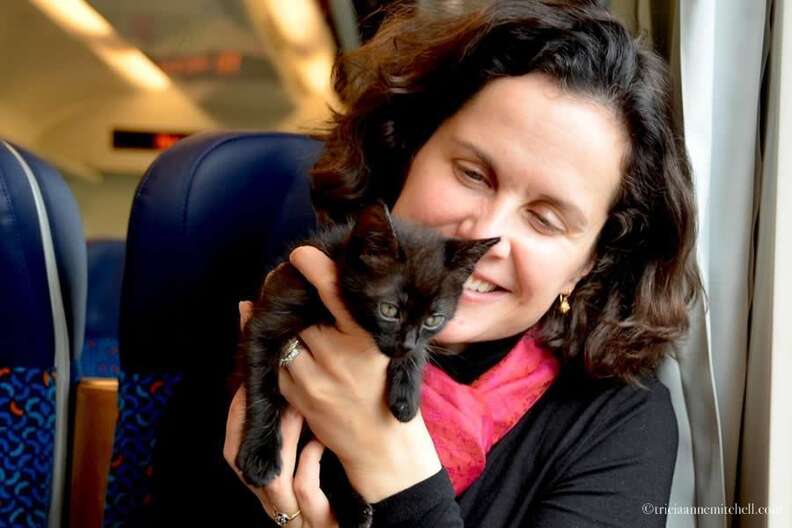 Once back in Germany, it didn't take long at all to find Cocoa a home. Mitchell runs a blog, and one of her avid readers, a woman named Claudine, read about Cocoa and knew she had to have him. Only three and a half weeks after they found him, Mitchell and her husband gave him to his brand-new family.
Cocoa now lives in Switzerland, and is loving everything about his new life. "Cocoa was and is equal parts spunky and loving," Mitchell said. "His new forever family shares tales of him acting like the prince of their household, which is made up of four humans and five other cats."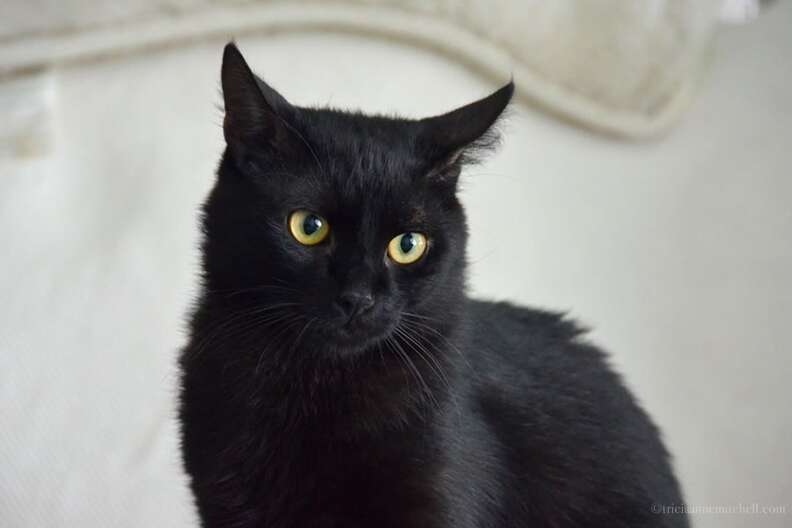 Nine months after his adoption, the couple who saved him had the pleasure of visiting him in his new home. Cocoa was thrilled to see his old friends.
"He hopped onto my lap, looked into my eyes, and extended his arms onto my shoulders," Mitchell said. "His new owner, Claudine, was certain he remembered us. Shawn and I found that incredibly touching."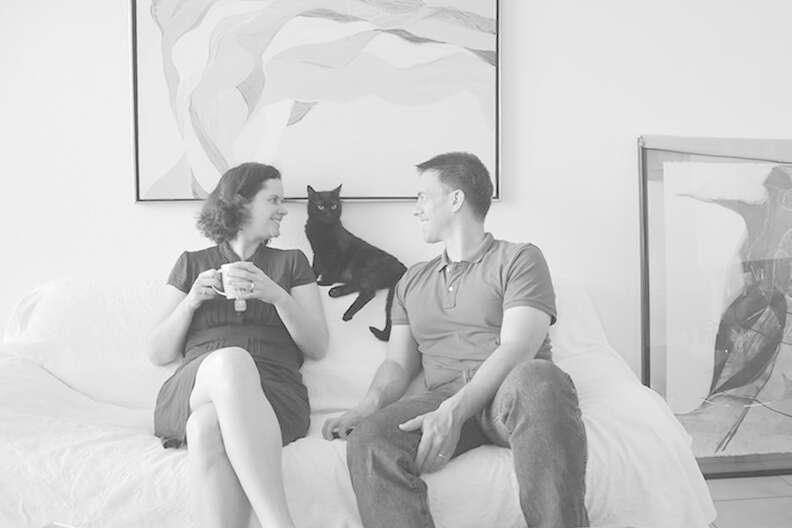 Cocoa went from being abandoned on the street to living like a king with a family that loves him, and he'll never forget the couple to whom he owes it all.
"He kept looking at us as if it say, 'I remember you guys. Are we going on another adventure?'"