Cutest Horse In The World Was Bred Just To Be Thrown Away
Chester shouldn't be alive.
The young foal was rescued in June after he was left to die at just 3 weeks old.
Like so many others, Chester was a product of what's known as a nurse mare. When prized mares give birth to young, their owners often want the new mothers to be bred again right away instead of spending time nursing.
Flying Change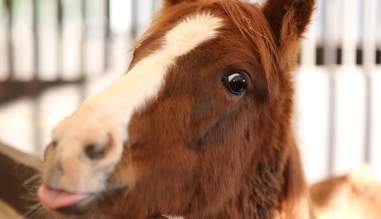 Flying Change
So they impregnate another, less valuable mare to provide milk. That second mare's own baby - who was bred only so his mother would make milk - is then thrown out.
"They literally can leave them somewhere to starve, or it's as gruesome as banging them in the head with a hammer to kill the foal," Danielle Collins of Flying Change, an equine therapy group in Atlanta, Georgia, that provides a home to rescued and retired horses, told The Dodo. "It's actually a pretty violent death for the majority of them."
Flying Change
Flying Change
Chester was one of the lucky few to escape, and was rescued by MercyFoal, a program run by Flying Change that saves nurse mare foals and trains them to be used in equine therapy.
But his rough start in life has left its mark - and now he needs another miracle to survive.
When Chester first arrived at Flying Chance, he was weak and malnourished, Collins said. "He's definitely underdeveloped for where he should be at this age," she explained. "He had this runny nose, and this sick, hoarse thing going on, but it wouldn't go away."
Flying Change
Flying Change
Eventually the young horse was diagnosed with pneumonia - a tough battle for any foal to fight. But Chester had it even worse than normal foals his age. Because he had been snatched away from his mother as a newborn, he had never received the necessary immune system boost young foals get from their mothers' milk, leaving him unable to fight the infection.
"He's even more susceptible to the disease because he doesn't have the immunity to fight it off like a normal foal would," Collins said. "At the rate it's going now, he's so weak."
Several rounds of antibiotics didn't work, and now Chester needs to go back for another assessment. The tests are expensive, but the alternative is certain death. And Flying Change isn't prepared to let that happen, as the little horse's fighting spirit has touched everyone around him.
Flying Change
Flying Change
"Animals that go through this, it's like an abused person," Collins explained. "He's been treated very poorly in the past." But in spite of his rough start, Chester's shown nothing but gentleness and spirit, she said.
"He's very affectionate, very sweet, very shy," Collins explained.
And because of that sweetness, staff members aren't the only ones counting on Chester to pull through. For the past few months he's been working with trauma survivors and veterans with PTSD to help them overcome their own rough pasts, and the clients have come to rely on him, Collins said.
Flying Change
Flying Change
"He's resilient, he keeps fighting, and he seems to bring this to the client he's matched with as well," Collins said. "We're kind of viewing this as a double loss if something were to happen to him ... it's something that won't only affect the life of this one horse, but also the other lives that he touches as well."
Chester's only hope is to return to the veterinarian, where another round of X-rays could assess how far the pneumonia has progressed. Further tests would show whether the infection is antibiotic resistant, and allow for a more tailored treatment plan. But the visit would total around $5,000, and the rescue is reaching out to the public for help.
Flying Change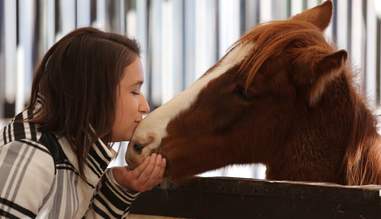 Flying Change
Yet Flying Change is also helping that Chester's story will help bring light to the dark fate so many foals face as a result of the dark world of nurse mares. Few people even know about the thousands of foals that die each year, Lissa Corcoran, executive director of Flying Change, told The Dodo.
"These farms have the upper hand all around in dealing with the rescues," Corcoran said. "Because the rescues want to save the foals, the farms take advantage of the opportunity to make money by requiring the rescue to pay hundreds of dollars for the foal that they planned to let die, anyway. They also operate in strict secrecy: If the rescues speak out about the plight of nurse mare foals the farms will refuse to let the rescues save them."
"How it is legal to kill a foal or let it starve death and not be charged with animal abuse, I don't understand," she added.
Flying Change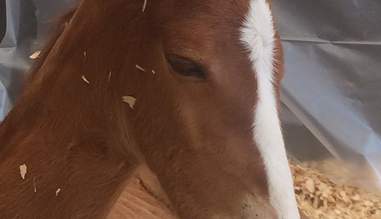 Flying Change
For now, though, Chester's new family is just hoping to raise enough money to help this one little survivor pull through - and to get him treated in time.
If you'd like to help save Chester's life, and help other foals like him, you can make a donation here.