When Elded Hagar, the founder of California-based rescue Hope For Paws, got a call about a pair of brother and sister poodles living under a freeway, he had no idea just how difficult it would be to rescue them.
He and another volunteer, Vanessa Enriquez, tracked down the dogs in a sewer tunnel underneath a Los Angeles highway. A kind family had been leaving food and water for the little dogs, but they were terrified of humans.
Hagar and Enriquez blocked one side of the tunnel so they would be able to reach the dogs, and then they began to slowly crawl closer and closer to the frightened pair.
The two dogs were white once, but living in the sewer had turned their matted fur dingy gray. The brother and sister huddled close together as the strangers crept closer.
But Hagar spoke in a calm, soothing voice, assuring the dogs he was there to help them.
He and Enriquez gently slipped leads around the dogs' necks and began to draw them out of their little corner.
The boy, who had been protecting his sister, began to warm up to the rescuers and slowly stepped toward them - but the girl hung back, still frightened and unsure of what was happening.
Hagar gently reached forward and stroked her to calm her down.
Slowly but surely, the volunteers urged the scared dogs to come with them out of the sewer tunnel where they had been living - all the while crawling through trash and empty bottles on their hands and knees.
And gradually the dogs began to accept that these people were there to help. Eventually even the wary sister let herself be pulled onto Enriquez's lap.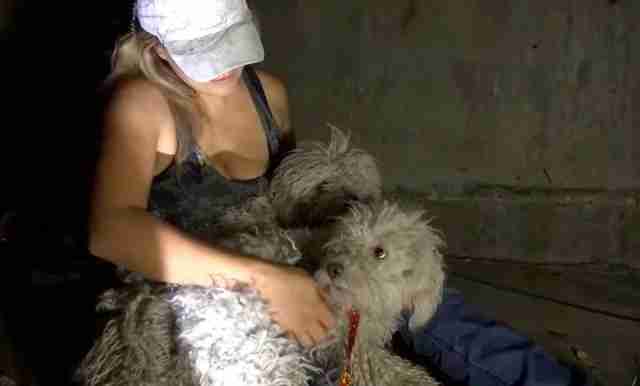 And then, at long last, Hagar and Enriquez reached the end of the tunnel - stepping out into the light with the two dogs. They were still frightened, but they seemed to understand that they were saying a permanent goodbye to their lonely life of scrounging in the sewers.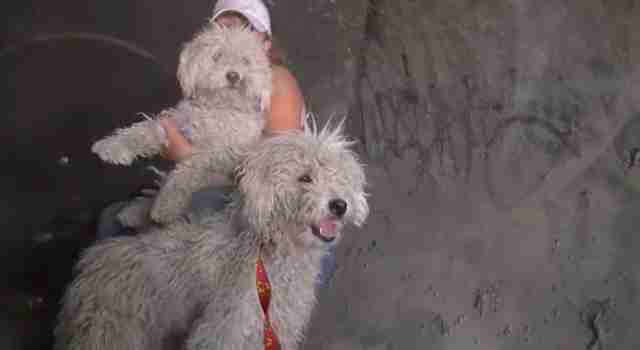 Hagar rushed the dogs to an animal clinic, where they got the care they needed - including makeovers! Hagar stayed with them as they got baths and haircuts, officially saying goodbye to their old lives.
Hagar decided to call the siblings Cola and Pepsi.
After a nice spa day, Cola and Pepsi were like completely different dogs. Clean, happy and playful, they bounced around with the humans who had saved them only hours before.
Cola and Pepsi even had a very special visit - the family who had been leaving them bowls of food and water to help them survive stopped by to say hello.
No one could hold back their smiles - including Cola and Pepsi.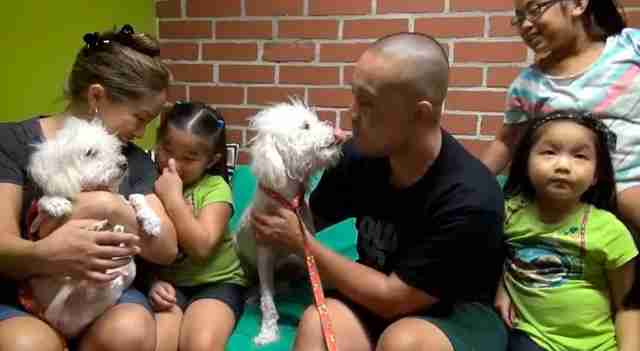 The two little dogs are now safe and happy - but still in need of a home. Cola and Pepsi are up for adoption with Maltese Rescue California.
Even though they're still waiting for a forever home, Cola and Pepsi already have one very happy ending under their belts. Way to go guys, you deserve it.
Watch their whole rescue here:
Want to spoil your pet? Enter to win an exclusive Dodo giveaway of $1000 to Thrive's pet market.