An extremely sick dog with one ear missing was recently found wandering the countryside in Greece. He was all alone.
Members of a rescue organization called Society for the Protection of Stray Animals (SPAZ) found out about him - and they knew they had to help.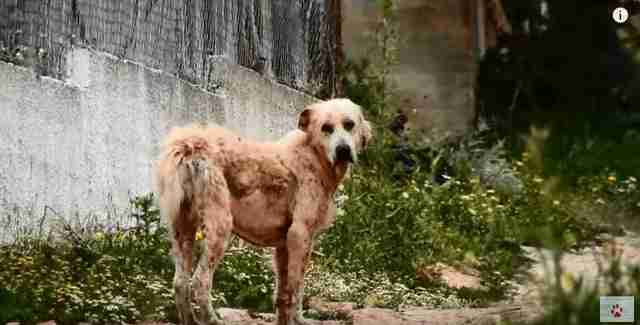 The dog likely used to be a sheepdog before he got sick and was probably abandoned. It seemed like he'd been alone for quite some time, as he was absolutely terrified of people.
Rescuers from SPAZ tried to get near the dog, but every time he saw or heard them coming he would quickly move away.
Desperate to help him, the rescuers decided to put a sedative in some food and leave it nearby, hoping that he would eat it and eventually become too sleepy to continue running.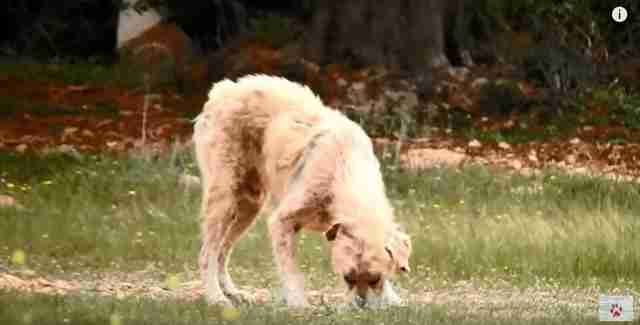 The dog ate the food - but was too afraid to let himself lie down. When they left more food for him, he caught on and buried it instead of eating it. The dog was clearly very smart and stubborn, and had no idea that these people just wanted to love him.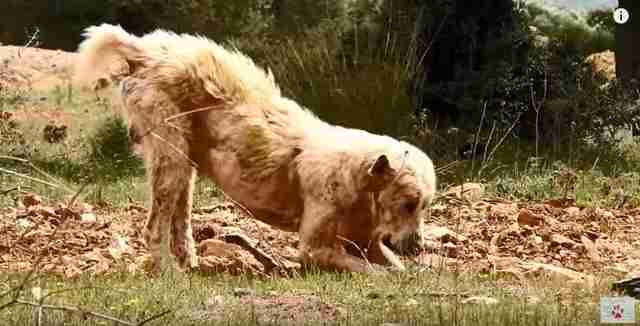 Finally, the dog became too tired to go on, and let himself be caught. Once with his rescuers, the dog was not aggressive or frightened - he was nervous, but ultimately seemed relieved to finally have people who cared enough to help.
"He loves his rescuers, and reluctantly wags his tail when he sees them. He has yet to get used to the human presence and the love he had never received before," Valia Orfanidou wrote in a video about his rescue.
After being examined, it was determined that the dog had extensive wounds all over his body, hair loss and a disease caused by ticks called Ehrlichia. His biggest issue, though, was his lack of trust that came from whatever happened to him in the past.
Today, the dog is still waiting for his forever home, and is slowly learning to trust and love a little more every day.
"He enjoys the human touch, but he still looks like he can't fully understand what's going on. How can he? Everything he experiences today has nothing to do with the life he had before," Orfanidou wrote.
Hopefully, with a little more love and care, the now rescued dog will learn to feel safe, and accept the love that he has always deserved.
Check out the full video of this incredible rescue below: