Cat Abandoned On Street Corner With His Litter Box
<p> Meredith Ferrel<span></span></p>
<p> Meredith Ferrel<span></span></p>
Last Wednesday, someone abandoned a cat in Brooklyn, New York. He was unceremoniously left alone on Nostrand Avenue. Next to him was his litter box and other cat supplies.
He was crying.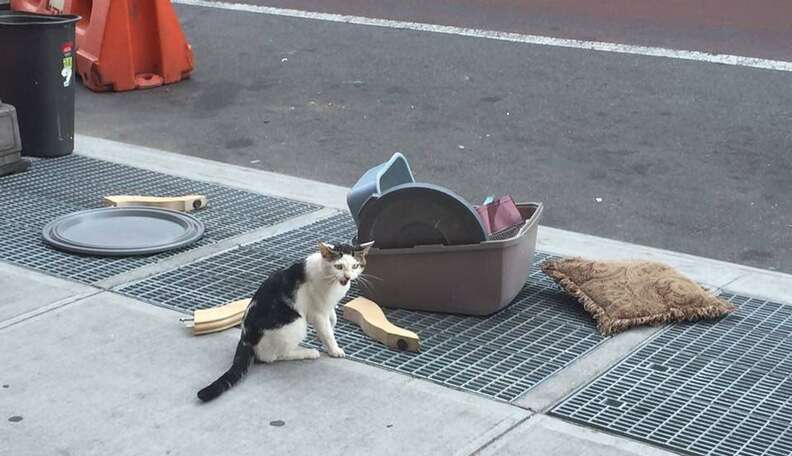 A photo of the heartbreaking display was shared on the Flatbush Area Team for Cats' (FAT Cats) Facebook page, calling for his immediate capture - which wasn't easy. Shortly after being spotted, Nostrand, as he was later named, disappeared when he was scared away by a street sweeper.
"We are a very close-knit community and people often post if they see an animal distressed or in need of assistance," Elizabeth Champ, one of the founders of FAT Cats, a Brooklyn-based group of trap, neuter and return advocates, told The Dodo.
Champ said that as soon as she heard about Nostrand, she immediately went on the hunt for him, as did many other members of the neighborhood.
"We would like to thank our neighbors, many of whom took time out of their day to look for this poor cat," FAT Cats wrote on Facebook last Wednesday, the same day his photo was posted on Facebook. "Due to today's heat and the amount of construction and noise on Nostrand Ave. today, it's our belief that he is hiding somewhere until things get quieter and cooler."
After days of searching, aided by rescue groups and concerned neighbors alike, Nostrand turned up in the backyard of Brooklyn local and retired cat rescuer Karen Oh on Sunday morning.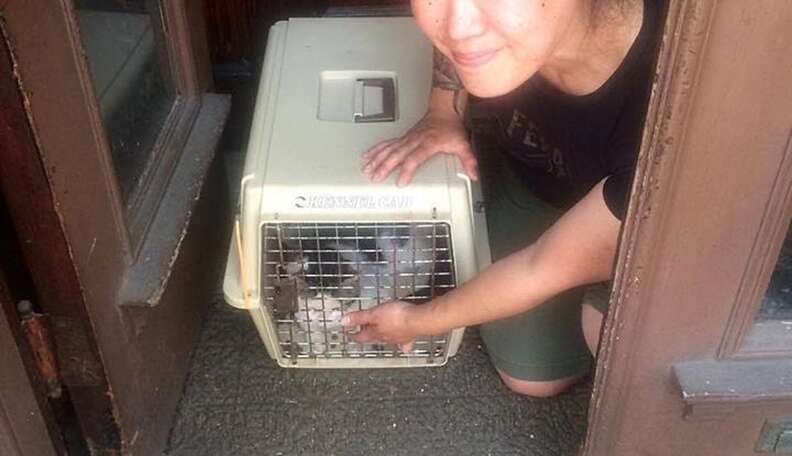 "We immediately brought him to get vetted, and screened for a microchip," the rescue wrote on Facebook. "No microchip, but we are happy to say he is a healthy 1-year-old male." Champ said that Nostrand was a "dream" during his initial visit to the Prospect Park Animal Clinic, where he was examined.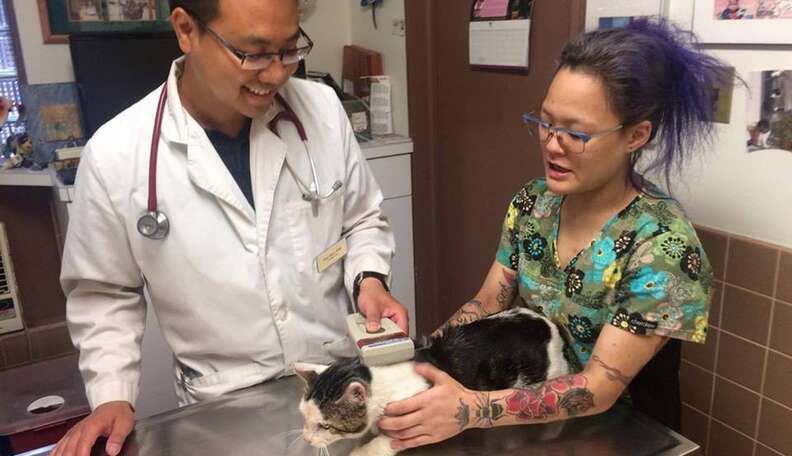 "[He] didn't even mind having blood drawn for testing," she said. "Unfortunately, many male cats get dumped when they mature because there are not enough low-cost spay/neuter resources in NYC," Champ added. "People can't afford to get them fixed, so they often dump them and get another cat."
Luckily for Nostrand, he's now in the safe care of FAT Cats and is due for a neuter appointment soon. Then, he'll be on the search for his forever home, thanks to the impressive community dedicated to saving him.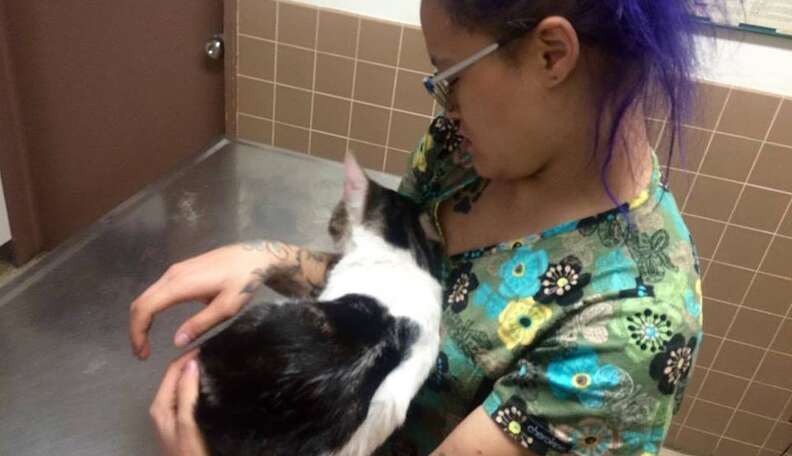 "Flatbush, like most of Brooklyn, is in a lot of transition," Champ said. "But animals are one thing that really brings people together."
If you live in the New York City area and are interested in giving Nostrand a forever home, contact FAT Cats at brooklynfatcats@gmail.com.
Want to help FAT Cats continue doing good work for animals in need? Consider making a donation here.