Adrian a young man from Romania who dedicated his life to animal rescue. He is student but he never lost a day from the shelter built by his family. He help at caring , cleaning and feeding the 250 dogs and cats from Sava's Safe Haven .
He also does not stop at that. He works to repair, to create playgrounds for animals.
His recently project was to make a more nice and comfy cattery for the stray cats rescued by Sava's Safe Haven.
The results was amazing. The cats were very happy to try all the toys made handmade by Adrian.
"The cats from Sava's Safe Haven had the biggest surprise! Adrian Sava worked day and night to build and equip a small haven for the cats rescued from the street.
Today was the "Grand Opening"for the new cattery , our cats had met with their new toys , beds and bowls. They are happy and we are happy that we managed to do such a thing.
All these cats were rescued from the street here have found safety, care and love.
Sava's Safe Haven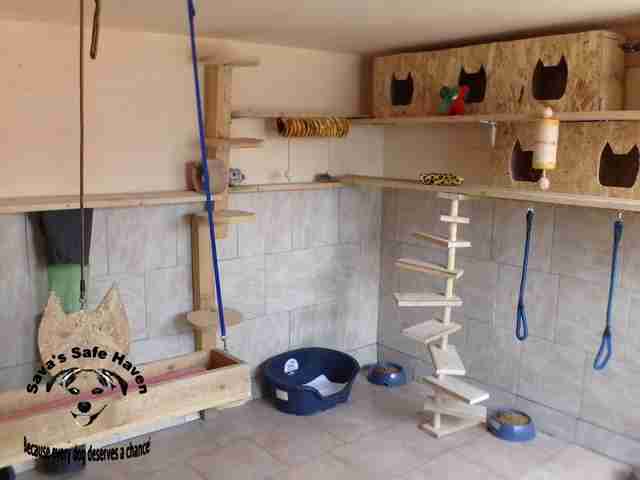 What will be the new project for Adrian?
" A wonderful puppy room, It will be a paradise for youngsters from Sava's shelter. It will helps puppies to pass faster of the traumas experienced in the street.Will be a place where they will play, socialize and will not feel like living in a shelter, maybe some of them will never find their families, so they must live in good conditions, we should make them to forget of the sinister memories lived in the street or other shelters.
Sometimes the shy dogs who can not pass over memories are the dogs that can not be adopted ever or stay in shelter for years, we should change it and offer them a new life from the early moments lived in our shelter. " Adrian Sava
Sava's Safe Haven a shelter built and run by a family that dedicated their life to animal rescue.
We are working day to night to ensure the dogs rescued from street that are now hosted in our shelter , a decent life.

"A shelter is not just a temporary house for a dog. A shelter should represent the start of a new life, as a school is to a child the start in life.
A rescued dog may be shy, scared or aggressive , the rescuer must learn him to trust people , be gentle and loving . How else to learn 250 dogs , than to offer them care and love that every dog needs.
We work around the clock to offer"our dogs a decent life, a chance for a better life. Here everyone knows what to do.We like to be organized and to maintain cleanliness in the shelter, even if sometimes it is difficult.
We never liked to complain and we always showed the good side of our shelter because in other shelters the bad side is most visible. Therefore we think that we are different." Oana Sava , founder of Sava's Safe Haven in Romania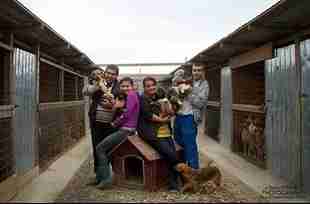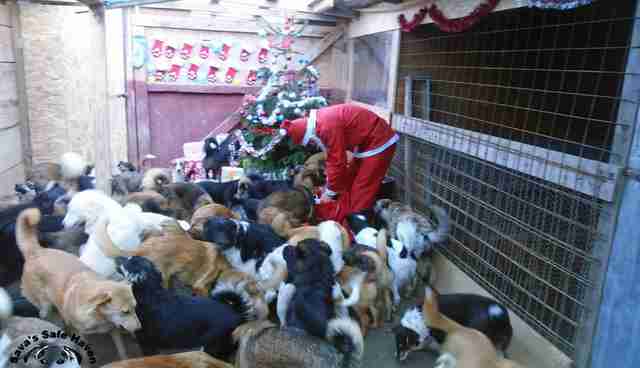 For over 3 years, we at Sava's Safe Haven offer our to our dogs and cats from shelter, a Christmas as a Story. Literally.
Santa Claus come to share toys, biscuits and gifts, also he play and love the dogs, from the tiny puppies to the most older ones , all dogs meet Santa.
The last Christmas was lovely for all 250 dogs from refuge.
A big involving from Sava's Safe Haven's international friends!
Worldwide people packed toys and biscuits in special gift boxes and send to their favorite dog from shelter. Each dog have a gift.
Our refuge is always looking to improve the facilities and standard of living for the dogs in our care, but we can only continue our vital work with the help from animal lovers worldwide.As our motto state :