On January 17th 2014 over 250 bottlenose dolphins were ruthlessly driven into a cove in Taiji Japan - probably one of the biggest pods the 26 fishermen had seen in a long time. The large family unit of cetaceans also included a rare albino calf, 'Angel', ( as she is now known) swimming by her Mother's side. Angel was instantly ripped from her parent and the remaining pod endured three days huddled together in shallow waters, as trainers picked out the ones suitable for dolphinariums and marine parks. Approximately 35/40 dolphins were stolen from the sea for captivity, 60/70 slaughtered and the remaining pod were all mercilessly dumped back into the ocean.
Taiji, with an estimated population of 3,400 is primarily known as a whaling town, and has been since the 17th century, however, slaughter for a dolphin at the hands of the Taiji fishermen is probably the most unimaginable suffering any sentient being can go through. Since the release of the academy award winning documentary 'The Cove' in 2009, they now drag the dolphins under plastic tarps so their inhumane death can no longer be witnessed.
Animals across the world seemed to be cursed by human traditions and Taiji's fishermen have continually declared the dolphin drives are very much a part of their town's history.
This hunt though would barely survive if the market for dolphinariums, marine parks such as Seaworld and captive 'Swim with Dolphin' programmes ceased to exist and we can all help to make this happen.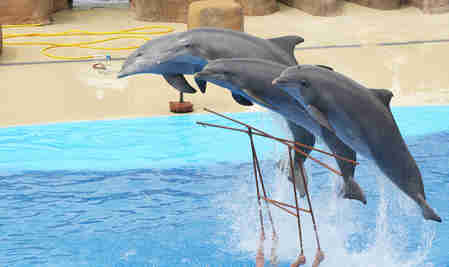 There is a huge decrease in Japan for dolphin and whale meat, after research shows it possibly contains dangerous levels of toxins, including mercury, but there has also been an increase in the numbers of dolphins taken from the sea for captivity. These cetaceans are worth so much more to the fishermen, fetching up to $250,000 for a live trained dolphin - rather than $500 dead.
Earlier this year The World Association of Zoos and Aquariums (WAZA) Council voted unanimously to suspend the membership of the Japanese Association of Zoos and Aquariums (JAZA). The decision came after WAZA and JAZA could not reach agreement on issues involving JAZA member zoos and aquariums taking dolphins from the Japanese drive fishery. Campaigners, Ric O'barry's dolphin project and Sea Shepherd Cove Guardians saw this as a giant step forward in bringing an end to these barbaric drives, however, the 1st September 2015 is the start of another season for the Taiji fishermen. Fishermen, who seem adamant to continue, ruling out any decision to end this unnecessary and cruel annual slaughter.
For many years swimming with dolphins was listed on my bucket-list nestled in between seeing the Northern Lights and travelling on The Orient Express. Sadly my ignorance failed to question how and why some of these cetaceans were in captivity until January 2014, when I was made aware of the annual dolphin hunt in Taiji. Swimming with dolphins is still on my bucket-list, but it will be at their discretion, in the sea, wild and free!
Please listen to 'Message from an Angel' who now languishes in the Taiji whale museum and for the love of all animals in captivity pass it on!
Sharon ACV www.acompassionatevoice.co.uk