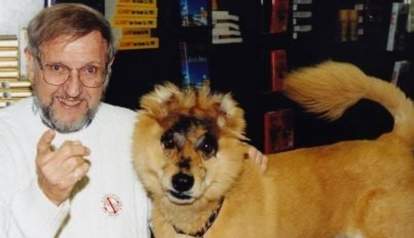 He was hung by his neck, punched repeatedly, doused with lighter fluid, and set afire. That should have been the last thing a ten-week old puppy named Gucci would ever experience. His last contact with humans. His final moments of life.
But Doug James, standing on his porch nearby, heard the puppy's cries and ran to help. He scared away the cowardly thugs who had perpetrated this heinous crime, and at the request of Gucci's 15-year-old runaway owner, took the dog in for the night.
Thus began a 16-year odyssey of devotion and perseverance.
When Gucci was rescued by Doug, it seemed impossible that the badly burned pup would make it through the night. But Gucci, a Chow-Husky-mix, would live for sixteen years as Doug's companion. As Gucci recovered, Doug did everything in his power to see that the dog's three assailants were punished. However, the laws in Alabama were not on Gucci's side. At worst the guilty would receive slaps on the wrists. That was not enough in the eyes of Doug James.
Together with local legislators, and with Gucci always faithfully by his side, Doug would see the "Gucci Bill" passed, changing the laws in Alabama and making domestic animal abuse a felony. He would witness Gucci go from being a survivor . . . to a rock star.
Gucci's story captivated the state of Alabama in the mid-90s. And now, when every other day a new tale of outrageous animal abuse pops up on the news or on Facebook, we are going to make it a story that captivates the world. We are going to show that one person can make a difference. Especially when they have a tail-chasing pup by their side.
A DOG NAMED GUCCI is a feature-length documentary that will bring the amazing story of Gucci and Doug James to life: from that horrible night of abuse, to the numerous operations to repair Gucci's severely burned eyelids, to the legislation passed in his name to help prevent such a thing from ever happening again.
We will speak extensively with Doug, Gucci's human companion for all of those sixteen post-trauma years, and to everyone else involved with the case: from the doctors and veterinarians who helped Gucci recover, to the police officers and investigators who worked the case, to the legislators who helped Doug and Gucci change the virtually non-existent abuse laws in Alabama.
A DOG NAMED GUCCI will also examine the bigger picture of domestic animal abuse in America, the laws in every state, and what you can do to help change them.
If you love animals, and you wouldn't have read this far if you didn't, you will fall in love with Gucci. And you will see how his struggle is only the tip of a very big iceberg of abuse. Horrible torture of our most loyal friends. Crimes that so often go unpunished. Just go to Facebook and search "Justice for" and add the name Desmond, Ike, Mijo, or Jetta, the list is disturbingly endless. Hopefully A DOG NAMED GUCCI will be a step in the right direction towards ending such abuse forever.
Note: the film is currently in post-production and is scheduled to begin playing the film festival circuit by the end of 2014.
Our Trailer: http://youtu.be/A-pAtLDeTOU
Please visit our Facebook page: https://www.facebook.com/ADogNamedGucci
Or follow us on Twitter: http://www.Twitter.com/ADogNamedGucci