In chilly cities with high feral cat populations, winters -- particularly one as severe as this year's -- can be deadly. That's why a number of urban residents across the country take it upon themselves to construct DIY cat shelters, often in conjunction with animal welfare organizations such as the Humane Society, Neighborhood Cats and Alley Cat Allies.
Career artisans are also joining the efforts to protect feral colonies, too: in New York City, partnerships with architects are even part of a citywide initiative to provide shelter for feral cats. Since 2010, the Mayor's Alliance for NYC Animals has hosted Architects for Animals, a competition benefitting the NYC Feral Cat Initiative, open to designers across the city who are interested in creating their own cat shelters.
Leslie Farrell, the competition's organizer, said she got the idea for the event after deciding to build her own feral cat shelter several years ago. "I moved to an area with a high number of stray cats, after having never realized how many animals live on the streets," Farrell said. "I was outside one day when the weather got cold, and I heard some meowing and decided I had to do something. I went inside and started to build a shelter, but then I thought, 'There have to be other architects like me who love animals and want to help them.'"
She was right. After getting the go-ahead from the Mayor's Alliance to start organizing the event, Farrell began speaking with local architects and receiving an overwhelmingly positive response. The event, now in its fourth year, has changed as Farrell and other organizers have learned more about the needs of feral cats and the communities that support them. But the general guidelines for shelters remain the same: Designs must be warm, waterproof, portable and, most importantly, safe. Farrell says that a number of the participants also emphasize building green shelters, and she hopes to make eco-friendliness a requirement in the future.
The initiative has successfully installed an array of designs in locations across New York, piquing the interest of the Humane Society in Washington, D.C. and prompting the city to host its own Architects for Animals event. With Farrell's guidance, dozens of D.C. architects have created high-end designer shelters meant to keep capital streetcats safe, warm and dry -- and maybe even make them feel at home. One of the teams even created a design meant to be replicated easily by anyone who wants to make their own shelter.
Farrell says she hopes the Architects for Animals events will inspire people to do exactly that -- to go out and make their own shelters, using whatever design works best. "I've seen shelters that have been out there for five years now, and they're not my designs," she said. "They use that simple, common construction -- and it works." According to Farrell, the shelters architects design are architecturally cool -- but stray cats don't care much for "cool" in the winter. They just want to be someplace warm. And, she added, you don't have to be an architect to offer one.
"Our message is for anyone in an area where there are cold animals: you can do it too," Farrell said. "Anyone who wants to help can build one of these."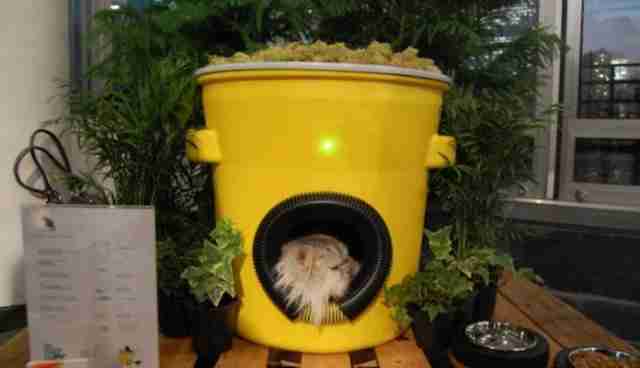 A shelter designed by Kathryn Walton, an architect and the founder of The American Street Cat, featured at the 2011 Architects for Animals event. (Photo courtesy of Leslie Farrell)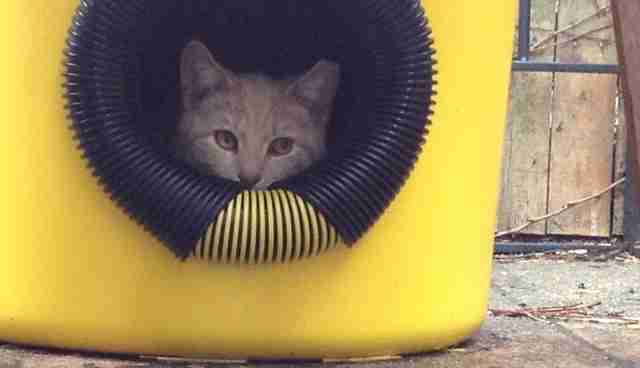 Walton's shelter a few months later, being put to good use in New York. (Photo courtesy of Kathryn Walton)
A simpler design by Walton in place in New York. (Photo courtesy of Kathryn Walton)
A simpler shelter in use by a different group of felines in New York. (Photo courtesy of Kathryn Walton)
A "recycled" design insulated with straw, in New York. (Photo courtesy of Kathryn Walton)
Walton's entry for the 2013 benefit, now in place in New York, which she made of 300 recycled cat food cans and insulated with recycled denim. (Photo by Kathryn Walton)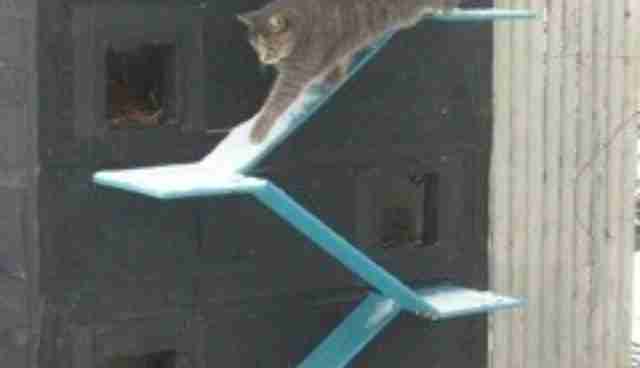 Vertical "apartment" shelter designed for the 2014 Architects for Animals event by a team of designers at Francis Cauffman, in use in a New York park. (Photo courtesy of Leslie Farrell)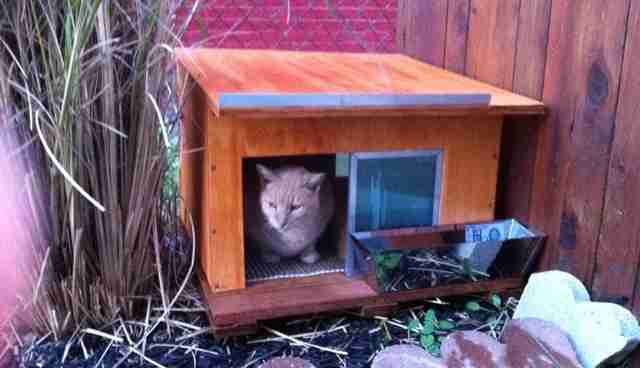 An eco-friendly shelter designed by a team at Bonstra Haresign Architects for the 2014 event in Washington, D.C. (Photo courtesy of Brian Forehand)
The Bonstra Haresign shelter in use. (Photo courtesy of Brian Forehand)
Shelters for feral cats don't just show up on the East Coast: Kelley's Kritters in Cleveland posted a photo of this DIY design.