Sweet Lacy, enjoying a grooming session with a loving volunteer
It was such a sad day when Lacy, a 29 year old, blind Shetland pony in our care for five+ years, passed away due to colic. Following 2 hours of veterinary intervention, it was decided the kindest thing to do was to end her suffering and to help her to pass peacefully. Quietly, Lacy slipped away and all the while, her faithful companion and protector, Molly, the Pit Bull, never left her side.
Molly, standing guard over her dear friend, Lacy
Since Molly and Lacy first met in August 2014, every moment of the day and night, the two were together. As sad as it was to lose Lacy, it was even sadder to see how the loss impacted Molly. She sat vigil over her body all day – even nudging her and tugging gently on her ears in an attempt to get her dear friend to stand. Later in the day, after a proper grave had been dug, we moved Lacy up to her final resting place in the upper pasture. As we expected her to do, Molly followed. Once Lacy was lowered into her grave, Molly did something that no one imagined she would do – she climbed down into the grave - determined to remain next to her friend. So touched by her actions, we allowed Molly some time to be alone with Lacy but eventually, we had to shoo her away as it was getting late in the day and we had to finish the burial before nightfall.
Molly, in Lacy's grave - unwilling to leave Lacy's side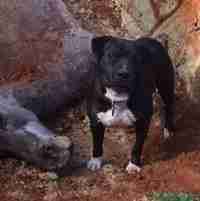 Once finished with the task at hand, we all retreated to the barnyard - except for Molly. She, instead, spent the night lying on Lacy's grave and once again, Molly did something that no one had ever heard her do before – she howled and howled and howled throughout the night. It was utterly haunting to hear her expressions of pain and loss.
Molly, at Lacy's grave site - where she stayed for three days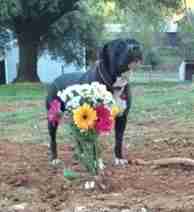 When I ventured out at daylight, Molly was still lying on top of Lacy's grave - a behavior she continued for the next three days. It was, most certainly, a moving reminder of just how deep and how magical, friendships can be between animals.
Sadly, Lacy passing also left Kash, a blind, 40 year old Appaloosa gelding and Lacy's equine barn mate of many years, without a buddy. One of our most stringent policies at HartSong is that all of the sanctuary residents have a special someone with which to share their lives. Not long after Lacy's passing, we learned of a Welsh pony living in a neglectful situation that desperately needed a helping hand. Her name was Cloudy - approximately 25 years old and almost the exact same size as Lacy. In that we now had an empty stall and considering that Kash and Molly were now without a buddy, we decided to welcome Cloudy to a peaceful life on the grounds of HartSong.
Sweet Cloudy - on her way to a better life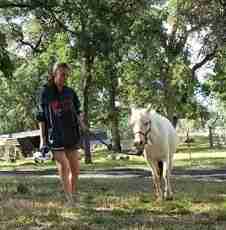 As we had hoped, Molly's connection to Cloudy was immediate and Kash too, now had a new buddy to pal around with during the daylight hours. Losing Lacy was a devastating, unexpected blow but as stated earlier, her passing allowed another to be saved and Cloudy's presence has, without question, helped to heal and soothe the broken hearts of many - but especially, Molly's. every life matters https://www.facebook.com/HartSong.Ranch.Animal.Sanctuary/ hartsong.org