Animal agriculture thrives when it's able to keep the general public in the dark about the mistreatment of farm animals. Since animal ag is not going to invite the general public into its facilities, it's our job as animal advocates to bring the factory farms and slaughterhouses directly to the general public.
At Vegan Outreach, we do this through leafleting -- giving out booklets that detail the plight of today's farm animals and advocate for vegan eating. We hand these booklets out free of charge at colleges and concerts. Over the last 20 years, we've distributed over 22 million booklets.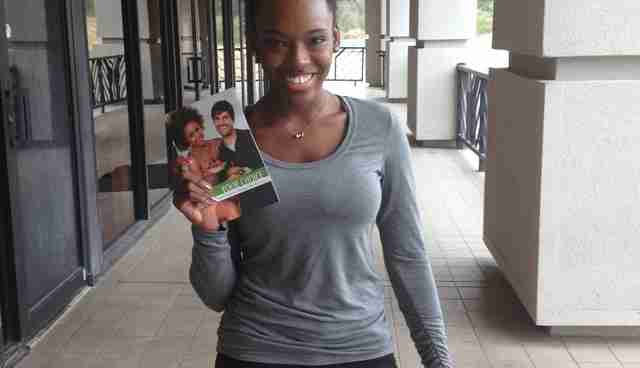 We're always hearing from individuals who are now vegetarian, vegan or eating a lot less meat as a result of our outreach. It's exciting to see the tangible result of our work!
I started leafleting full-time in 2004, and I've spent the overwhelming majority of my last decade driving from college to college, leafleting campuses on behalf of Vegan Outreach. I've visited 523 schools in 46 states, 4 Canadian provinces, and the District of Columbia. Late last month, on March 28th, I was elated to give out my millionth booklet.
With ten years, 250,000 miles driven, and a million interactions with students behind me, what's my main takeaway? It's that today's youth genuinely desire a better world for animals.
Whether I'm in a blue state or a red state, at an art school or an ag school, I'm always coming across students who oppose animal cruelty and are eager to explore vegan eating. Bon Appétit, a food catering company that works with college campuses, surveyed students during the 2005 to 2006 school year about their food choices. They found that 8% of their students self-identified as vegetarian and 1% self-identified as vegan. Four years later, the number was at 12% and 2% respectively, a 50% increase of vegetarians and a doubling of vegans – in just four years!
I get such little resistance from students these days compared to just ten years ago when I started doing this work. And while so many used to be unfamiliar with the term "vegan," about everyone I encounter these days has a friend, family member or significant other who is vegan. Our ranks are growing, and they'll continue to grow.
Martin Luther King, Jr. said that the "arc of the moral universe is long, but it bends towards justice." That is that change is often slow and piecemeal, but if enough people are working for it, change is inevitable. We're seeing great progress in our attitudes towards animals. And this progress will accelerate as more and more of us get out and roll up our sleeves and do the work that needs to be done.
We at Vegan Outreach would be thrilled if you were to get involved in our work. To do so, please visit veganoutreach.org.
Jon Camp is the Director of Outreach at Vegan Outreach. You can find him on Twitter @jonrcamp.