9-Year-Old Perfectly Sums Up Why Rescuing A Dog Is So Worth It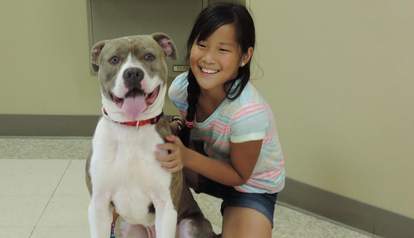 <p> <a href="https://www.facebook.com/SiouxlandHumaneSociety?fref=ts">Facebook/SiouxlandHumane</a><span></span> </p>
You don't have to be a grown-up to get why adopting a shelter dog is such an incredible (and important) thing to do - or why rescues make the best pets.
Nine-year-old Sadie Bettendorf summed it up perfectly last week, explaining why she and her family adopted their new pit bull, Maxx, from the Siouxland Humane Society in Sioux City, Iowa. "They need homes," Sadie told local outlet KTIV, adding that Maxx "makes our family complete."
The Bettendorfs were brokenhearted in June after their pittie, Blue, died of cancer - they were desperately searching for a new dog to help them feel whole again.
They asked the Siouxland Humane Society to give them a call if any new pit bulls were brought in. They wanted a dog who would remind them of Blue.
Maxx arrived at the shelter a month ago, assistant shelter director Kelly Erie told The Dodo, but he needed surgery to fix a painful case of bladder stones before he could be adopted.
Erie realized, though, that Maxx could be a perfect fit for the Bettendorf family when he was ready for a home. "He's very nice, well mannered, loved to be around people," Erie said.
Sioux City, where the shelter is located, has a discriminatory city-wide pit bull ban. But the Bettendorfs live nearby in Minnesota, in a town with no pit bull ban - yet another reason they were a great match for Maxx.
Sadie, her dad and one of the Bettendorfs' other pitties, Sugar, drove the six hours from their home to Sioux City last week to meet Maxx - and it was love at first sight.
"Sadie fell in love instantly," Erie said. That same day the Bettendorfs made it final, and brought Maxx home with them for good.
"Maxx is now our newest 'tribe' member," Patrick Bettendorf told The Dodo. "And we are soooo happy to have him!"
Patrick Bettendorf
Adopting a dog from a shelter doesn't just bring families joy - it also teaches valuable lessons and helps kids become animal lovers for life.
"Anytime someone adopts a pet at an animal shelter, it's teaching their kids responsibility," Erie said.
If you're ready to add a shelter pet to your family, find waiting dogs at Adopt-a-Pet.com.