9 Reasons You Should Support Great Ape Personhood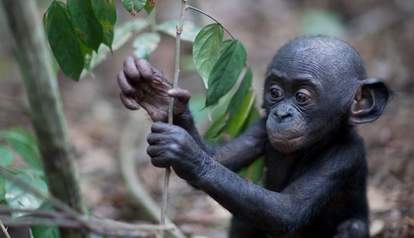 <p>Flickr: jameshopkirk</p>
Humans don't just descend from apes; we are apes. Humans are part of the great ape family, and our evolutionary brothers and sisters -- chimpanzees, bonobos, orangutans and gorillas -- haven't exactly been feeling the love from humanity. In most places, they're legally treated as things, not beings, but the great ape personhood movement challenges that long-held assumption.
1. Great apes are our closest relatives
[Source]
Humans share a majority of our genetic material with chimpanzees (the precise numbers are highly disputed, from 70to99 percent similarity). Yet great apes are regularly hunted, kept as pets or showpieces, and used in research labs for humankind's benefit and entertainment. Other great apes living in the wild, like the orangutan above, are often naturally curious about noninvasive human visitors, such as the scientists and students living at Camp Leakey, a research facility and refuge nestled in the Tanjung Puting National Park in Borneo. This orangutan has learned to wash its "clothes," body, and face merely by watching and copying the human residents -- further evidence of these great apes' capacity for experimentation and innovation.
2. They use and understand complex languages
[Source]
Captive and rescued great apes have learned sign language, used keyboards and computers and mastered sequences. In the wild, they have their own language of gestures, similar to sign language or body language, indicating that they can attach meaning to symbols on their own. Researchers have compared other apes' language abilities to those of human children, and they can pick up language just like human children do: by watching, listening and trying it out for themselves.
3. Great apes experience emotions and desires
[Source]
Great apes naturally live in families or groups -- just like humans. These groups have been shown to exhibit distinct cultural practices and behaviors, and they even play games together! All great apes learn and transmit their cultural practices by observing others and practicing their skills... and sometimes with a little help from mom or dad. Check out this child complaining as their worried parent tugs them from a high branch to safety. Remind you of anyone you know?
5. Apes make tools, work together, share and help others
[Source]
Jane Goodall first proved in the 1960s that chimpanzees make and use their own tools in the wild to find and hunt food, and researchers have discovered that apes will consistently make thoughtful decisions and multi-step plans to acquire rewards. Chimpanzees seem naturally inclined to aid others in distress, and will help other chimps acquire food -- while bonobos will share their food equally. In these clips, researchers placed one bonobo in a room with the food, where they could elect to eat all the food themselves or open a door to let a fellow ape inside and share the bounty. The bonobos in the test unlocked the door, even though that meant less food for themselves.
[Source]
6. They have memories and math skills just like ours (or better!)
[Source]
Great apes have been shown to have a gift for numbers and sequences.Even gorillas have proven they can sequence small groups of numbers, though they were long neglected by researchers because these largest members of the hominid family were also thought to be the least intelligent. Great apes' memories may also be better than ours: in a test that rewarded humans and chimps for sequencing a group of numbers from memory, the chimpanzees (like the one above) were faster and more accurate than university students.
7. Corporations are considered people -- why not all apes?
[Source]
Corporations already have the same legal protections as humans, thanks to the 2010 Citizens United Supreme Court case. So why is it so far-fetched that we might extend our legal rights to the rest of our evolutionary family, and protect them from further enslavement, exploitation, captivity, and habitat destruction?
8. Thanks to humans, other great apes are disappearing at an alarming rate...
[Source]
According to a UN report released last year, around 3,000 great apes are captured or killed in the wild yearly. Between 2005 and 2011, the UN Environment Program guessed that over 22,000 apes disappeared from their forests, all in the name of the illegal ape trade. Great apes are exploited in zoos, circuses and amusement parks, and bought as pets by wealthy exotic animal enthusiasts who see them as little more than luxury goods. The lucky few are rescued and taken to sanctuaries, like the baby above at Lola Ya Bonobo Sanctuary in the Democratic Republic of the Congo, which is currently the only bonobo rescue center in the world.
9. ...And so is their habitat