9 Productive Pets Helping Their Humans Get Through The Day
1. "Hand me the next dish!"
2. "We're going to look until we find that other sock."
3. "We're probably gonna need a socket wrench for this one."
4. "Alright folks, I can help whoever's next!"
5. "No, no, you've gotta move the expense report over to the OTHER spreadsheet."
6. "Your laundry will stay warmer if you let me lay on it."
(Reddit)
7. "Alright, looks like you're all folded and packed!"
8. "I'm just right outside the door if you need to hold my paw, okay?"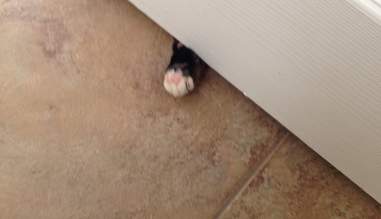 (Reddit: maddie3006)
9. "Here, take my horse, it'll make you feel better."
Thanks, Pets, for being so helpful and making life a little bit easier!