8 Animals Returning Home Who Never Thought They'd See The Wild Again
The tigers were rehabilitated and then released in Siberia in an epic triple release. Here's their first taste of freedom:
The transformation took time ...
... but the result was astounding.
Full video here.
3. Wounda the Chimpanzee
Wounda the chimpanzee suffered from a debilitating illness that nearly killed her at the Jane Goodall Institute's Tchimpounga Chimpanzee Rehabilitation Center in the Republic of Congo.
But thanks to Goodall and her staff, Wounda made a stunning recovery. And just at the moment of her release, something incredible happened -- Wounda turned around to thank Goodall with a hug.
The chimp then turned and disappeared into the forest.
Full video here.
4. Chunsam, Jedol and Sampal
Once held illegally in captivity in South Korean aquarium tanks, three dolphins -- Chunsam, Jedol and Sampal -- were set free in Korea Strait.
The dolphins racing in a boat's wake: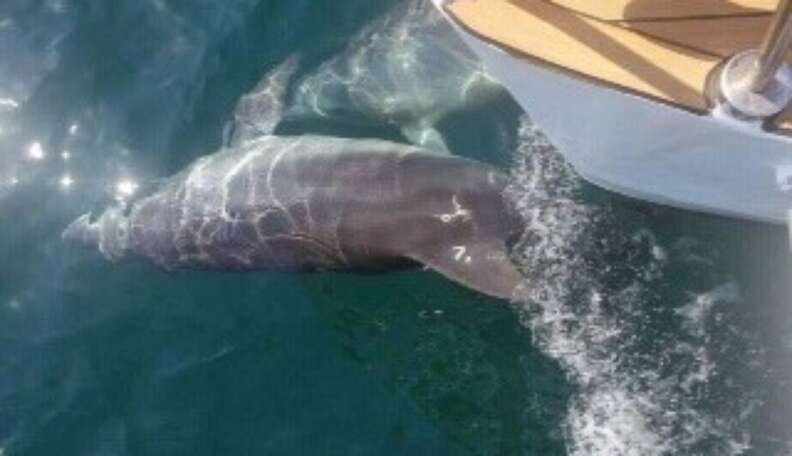 5. Pelangsi the orangutan
Pelangsi was discovered caught in a hunting snare, his hand badly mangled, by rescuers at the International Animal Rescue (IAR). He was brought to veterinarians, who slowly nursed him back to health.
Though his hand had to be amputated, Pelangsi soon regained mobility -- so much so that he could be released back into the wild -- a chance he leapt at.
Full video here.
6. Gator and Copter
A pair of bobcats named Gator and Copter who were found abandoned by their mothers as kittens were taken to Big Cat Rescue in Florida, where they were nursed back to health.
The pair made their triumphant return to the wild after they were rehabilitated. When rescuers opened the cage gates, Gator made a fast dash for freedom.
A little more nervous, Copter was moved closer to the forest -- and he was finally able to make it back into the wild where he belongs.
7. Elephant seal pups are free again
A group of young elephant seal pups fell ill with infections when they were scooped up the California Wildlife Center just in time. The pups spent two weeks recovering at the center and learning to feed themselves. Luckily, photographer Kim Barker was on hand to document the pups' progress.
Finally, the big day arrived, and the pups were released back into the ocean at Leo Carrillo Beach near Malibu.
It took a little time to get the hang of ...
... But soon enough they were naturals again.
8. Four bear cubs get a new life
Four unlucky grizzly bear cubs were orphaned when their mothers died, but their luck changed when they were brought to a rehabilitation center in British Columbia. They spent seven months at the center, cared for by rescuers from IFAW and the Northern Lights Wildlife Society (NLWS).
Workers carried each tranquilized bear to a helicopter dock by hand.
Then the bears were airlifted to the release site (they were unconscious during the flight).
Finally, the bears tasted freedom once again.