While you're snuggled up next to a fire this winter, some of mother nature's toughest animals are out facing the storm. Here's how some of them stay warm.
1. Sea otters
Sea otters are the only marine mammals who don't have blubber, so how is it that they manage to keep warm in watery conditions? Well, it's all thanks to an incredibly high metabolism working together with the densest fur coat in the entire animal kingdom. Sea otters have anywhere between 250,000 to a million hairs per square inch covering their bodies! The undercoat helps insulate the body by trapping air and has the added bonus of being water-repellent.
2. Leatherback turtles
Leatherback turtles are a unique species of turtle - and one of the most endangered - and they've managed to find a somewhat special, if not odd, way of staying warm. Leatherbacks are voracious eaters and one of the primary ways they keep from freezing is by eating jellyfish. One study shows that eating the jellyfish actually provides around half of the heat they need to survive.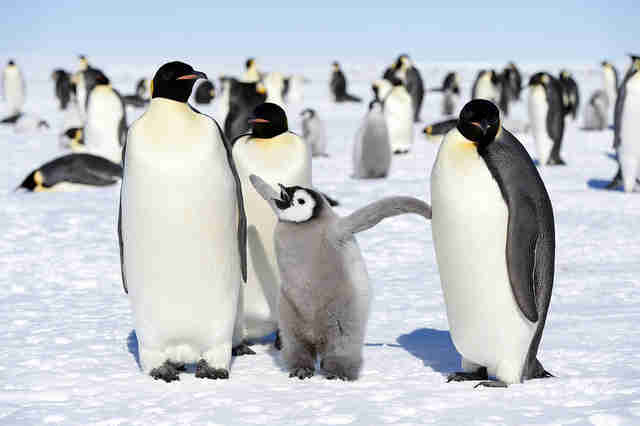 Emperor penguins live in one of the coldest regions of the world, and they stay warm through a fascinating combination of constant movement and carefully orchestrated choreography. The penguins travel in enormous packs and are often found huddled together. They move position every minute but must stay huddled together to keep from freezing. They've adopted the ability to recognize when one member of the group moves even 2 centimeters, setting off a chain reaction that causes the rest to shift formation in something resembling a wave.
4. Arctic hares
Hares just want to hug - and technically, they kind of have to. Hares living in the Arctic have adapted a variety of unique features to live in the cold environment, like shorter ears and a low surface area to volume ratio, but chief among them is their ability to burrow into the snow and huddle together to survive subfreezing temperatures. Fun fact: Arctic hares also have the ability to change the color of their fur to white in the winter to hide from predators.
These fierce looking fellas are able to survive harsh environments, including ones covered in snow. Snow leopards are often found in the mountains of Asia on rocky ledges and high altitudes. They're able to withstand the cold and snow thanks to features like their tough, woolly stomachs, thick fur and the awesome ability to convert cold air to warm through their enlarged nasal cavities. This helps to regulate their body temperature. At night they're also know to wrap their extra long tails around their bodies as blankets for added warmth.
6. Chickadees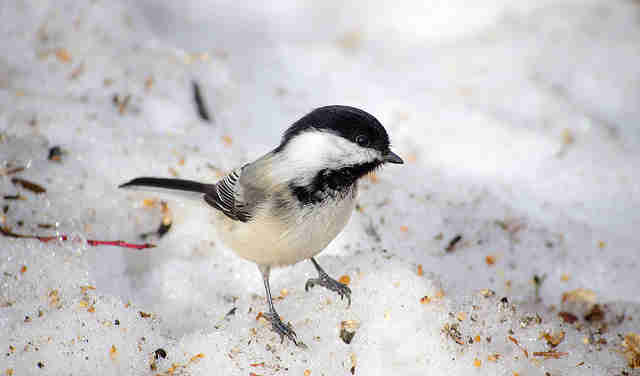 Rather than head south for the winter, some birds decide to tough it out. Chickadees, along with other birds like woodpeckers, are known to undergo a process of thermoregulation known as torpor. Basically, the small birds will drop their own body temperature by around 10 degrees each night and then commence to shiver to maintain body heat to keep warm. So when you see them perched on a limb shaking, it's not because they're cold - it's because they're staying warm!