7 Reasons Why You Should Stay Warm Another Way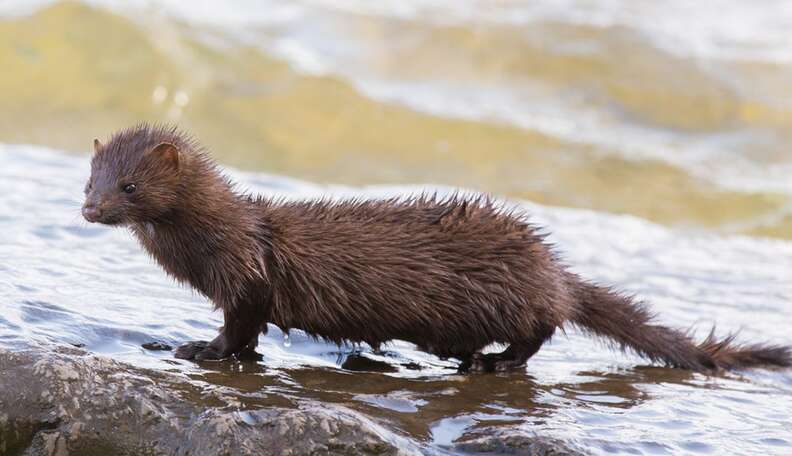 <p> <a class="checked-link" href="https://c1.staticflickr.com/3/2807/9374114650_743e0aaba5_b.jpg">Flickr</a><span></span> </p>
<p> <a class="checked-link" href="https://c1.staticflickr.com/3/2807/9374114650_743e0aaba5_b.jpg">Flickr</a><span></span> </p>
WARNING: Disturbing images
About half of North American fur comes from Canada. Last month, for the first time in Canadian history, Quebec fur farmer Jean-Luc Rodier was charged with six counts of animal cruelty and negligence. Since then, Montreal SPCA, LUSH Cosmetics and the Association for the Protection of Fur-Bearing Animals started the Make Fur History campaign to end fur farming because, on top of being cruel, the Canadian industry lacks regulation and organization. Here are 7 things you didn't know about the Canadian fur industry:
1. About 80 percent of Canadian fur comes from fur farms. Specifically, it comes from mink or foxes. Mink are small, semi-aquatic animals that usually roam a territory of up to 2.5 miles. But they will never roam that far or wide if they're caged, on a farm.
(Photo: Flickr)
2. Nova Scotia is home to the highest number of mink farms. Some farms house up to 10,000 mink, according to Alanna Devine of the Montreal SPCA, and the animal's cages are usually about the size of two shoe boxes. That means zero space or access to natural water.
(Photo: Respect for Animals)
3. Fur farms aren't subject to any enforceable laws - but are subject to a list of regulations called the Codes of Practice, which are overseen by veterinarians, fur farmers and one animal welfare group. When someone breaks a rule, it's up to the SPCA in that province to challenge the perpetrator. Devine said charges can only be brought in the most extreme cases, because bars for abuse are set so high.
(Photo: Wikimedia)
4. There are no health regulations that strictly govern the industry. Dave MacHattie, a veterinarian for Middleton Veterinary Services in Nova Scotia who primarily treats mink, said he encourages his patients to follow the codes. But, a video collected from a number of mink farms in Quebec shows dirty conditions, with animals sharing close quarters with piles of their own feces.
(Video: Make Fur History)
5. Devine said that animals often exhibit repetitive, neurotic behaviors from being held in the cages for so long. MacHattie said it always happens when they see people, because they associate humans with food.
(Photo: Wikimedia)
6. Animals are killed with carbon monoxide. They go from their cages into a small, wheelable cart, where the gas is turned on and they animals die. Herscovici says the process is painless and that the animals go to sleep and don't wake up. Animal advocacy organizations said animals can suffer seizures, and carbon monoxide can cause bleeding in the lungs. (Photo: Animal Equality)
7. Though Rodier's case might be an outlier, as MacHattie says, it still occurs enough for there to be the aforementioned video, which Michael Howie, the director of digital content for the Association for the Protection of Fur-Bearing Animals, said was taken at a number of still-operational farms across Quebec.
(Photo: Wikimedia)