7 reasons to right-swipe Chester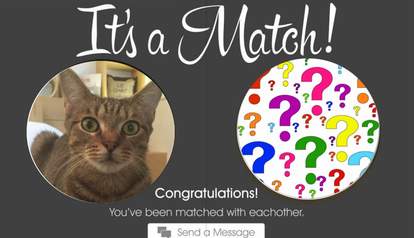 It sounds too good to be true but the most charming kittycat in New York City is still looking for his match! Is it you? Or someone you know?
Are you looking for a social guy that will entertain your friends but will also make you feel special? Chester is a super friendly cat at Meow Parlour and will let everyone pet him but he also developed a very special bond with his caretakers. He always comes to greet us at the door and then merrily trots besides us to acknowledge our presence (and maybe have us decide it's feeding time?). He asks for kisses on his head and closes his eyes with satisfaction
Unlike many other lazy cats, Chester is organized and he likes folding laundry. (Please note he may stare you down if you don't help him, he is all for an equal division of labor).
Chester is not just cool about being picked up, he is actually eager to be held and carried around by his favorite humans! When he's in the mood for a cuddle session, he will camp at your feet and politely wait until you oblige him.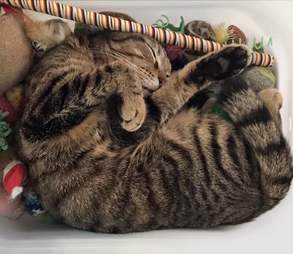 Chester was born in June last year, and he still has the energy of a young kitten when it's playtime! He goes crazy after the wand toys, especially if you move it under a pillow and pretend it's a hiding prey. He also loves the 'merry go round' version when the toy goes around him non stop, and he fights until he's too dizzy.
Once he's pooped, it's time for a catnap in his favorite spot: the toys bin!
Chester got you covered for Friday 13th as he trained with a Maneki Neko master (this picture was taken during the early stages of apprenticeship) and he was an excellent student (at the very least he brings a smile on our face everyday).
We don't want to sound like proud foster parents but don't you think Chester is the handsomest brown tabby boy ever? He will never stop providing tons of 'awwww' pics opportunities! (Disclaimer: if you adopt him you should warn your friends before their social media feeds overflow with his cuteness)
As all of our cats that come from KittyKind, Chester is tested for FeLV and FIV, vaccinated, and neutered. He may be small but he has a very good appetite (to say the least) and is not a fussy eater. Plus, he even packed himself: he's ready to go!
Interested in giving Chester a new home? You can book a visit to Meow Parlour online or contact KittyKind at adopt@kittykind.org to start an application and arrange for a free visit to the café. (Active teens like Chester are usually placed in a home with another active cat. However if you think your lifestyle would allow you to provide Chester the attention that he needs, please feel free to reach out!)