In late December, an Argentine court ruled that an orangutan named Sandra is a "nonhuman" subject, and therefore does not belong in a zoo as entertainment. That an ape should be treated with such respect should come as little surprise - the word "orangutan," even, is Malay for "person of the forest." Plus, the animals share plenty of traits with humans. Orangutans are not about to show up on "Jeopardy," sure, but they're sort of like the giant, shaggy toddlers of the forest. Here are seven things orangutans share with humanity's young rascals:
1. Climbing trees(bigsumo/Flickr /CC BY 2.0)
Orangutans are accomplished tree climbers, adopting a behavior called brachiating, which lets them swing from branch to branch using hands and feet like hooks, says the orangutan conservation group Pongo Foundation. Little kids might not have such flexible feet, but they are inhumanly good at scaling trees.
2. Learning from moms(chem7/Flickr/CC BY 2.0)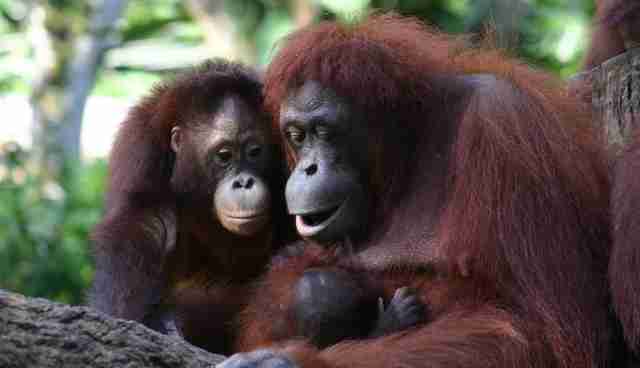 A bright yellow rain slicker is a beautiful thing - a neon defense against drizzle, the thin line between chilled bones and a pleasant pattering sound. The orangutan knows this, too, though not having mastered the creation of colored vinyl, he simply drapes himself in a rainproof leaf and calls it a day.
4. A dislike of soap(victorulijn/Flickr/CC BY 2.0)
If cleanliness is next to godliness, dirtiness is next door to a happy, grass-stained kid. And, depending on the contents of our soap, when we go dirty it makes a happy orangutan, too. It's not that orangutans have a deviant fondness for stanky humans, but rather that farming palm oil - used in food and products like soap - encroaches on their ecosystems. Palm oil plantations have led to conflict with orangutans in Borneo, by shrinking orangutan habitat as well as farmers directly killing the apes.
5. All the sweet things (ekilby/Flickr /CC BY 2.0)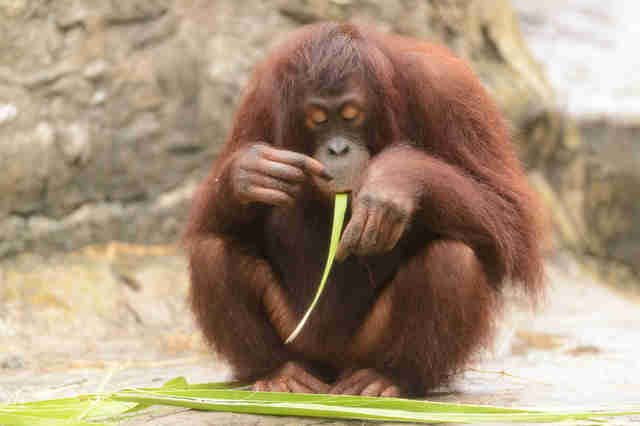 6. Shyness(suneko/Flickr/CC BY 2.0)
Something like half of American kids call themselves shy, a descriptor these quiet children share with orangutans. Orangutans are infrequently spotted in the wild and even more rarely seen in groups; once the primates hit sexual maturity, they'll strike it out solo to conquer the natural jungle gym of the Indonesian and Malaysian wilds.
7. The vast majority of DNA(victorulijn/flickr/CC BY 2.0)