7 Of The Loudest Mouths In The Animal Kingdom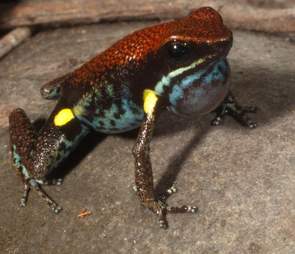 Poison dart frogs opt for gaudy warnings of their toxicity, rather than the green or mottled skin of other frogs. They're committed to their position as evolutionary standouts: The loud colors, which keep predators away, in turn allow the frogs to have a more boisterous mating call. "These noisy kinds of calls, in general, are what the females really like," states Juan C. Santos, a zoologist and part of a team who recently discovered brighter frogs have the loudest sounds.
2. American Alligator: 90 Decibels
Though these reptiles don't have vocal folds, American alligators can hit a 90-decibel bellow (humans max out at about 70).
3. Three-Wattled Bellbird: 100 Decibels
The world's loudest bird also sports the three long wattles running down his beak.
4. Bushcricket: 110 Decibels