7 Animals Who Are Pumped About Pumpkins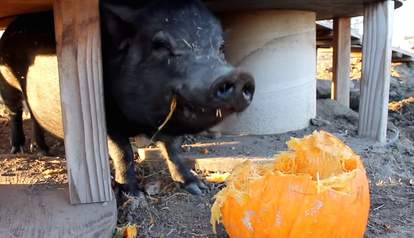 <p>YouTube: WildlifeHeritage</p>
It turns out that pumpkins can be a fun source of enrichment for many animals, acting as both a treat and a toy. While the jack-o-lantern sitting on your porch should not be fed to your beloved pet (after a few days outdoors, the carved pumpkin starts to collect bacteria), a bit of unsweetened canned pumpkin can be a tasty and healthy treat for your dog or cat.
Here are a few members of the animal kingdom who love this iconic orange gourd.
1. The elephants at The Elephant Sanctuary in Tennessee discover that smooshing their pumpkin makes for a much more accessible snack.
2. Running Bear the bobcat, at Big Cat Rescue, turns his miniature pumpkin into an all-natural chew toy.
3. Maya the corgi's main priority is intimidating the heck outta this sneaky pumpkin. Better not try any funny stuff, Mr. Punkin.
4. Piggies Monica and Mohawk, at Harvest Home Animal Sanctuary, enjoy a seasonal pumpkin feast during the fall months - and get pretty enthusiastic about the special meal.
5. This siberian tiger at Big Cat Rescue is giddy to show off her new pumpkin ball.
7. Rescued black cat Cole prefers to use his pumpkin as a fortress of solitude - no humans allowed!