9 Animals Who Are Not Actually Vladimir Putin
Russian President Vladimir Putin may look remarkably similar to a "Harry Potter" elf, but it turns out he also resembles a lot of animals:
This Australian cattle dog cuddles almost as closely as Putin.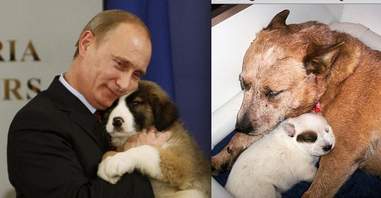 (Photo: IBTimes/Wikimedia)
His twins range from the proboscis monkey, native to Borneo ...
(Credit: Kremlin/WikiCommons)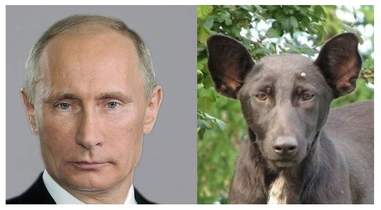 ... who like to go swimming.

(Credit: Flickr/Flickr)
There's even a Brooklyn cat named Carl whose owner, author Amanda Petrusich says, is "beginning to resemble Vladimir Putin." (Credit: Amanda Petrusich)
Carl's not the only cat look-alike ... there are these winks ...
(Credit: Wikimedia/Flickr)
... and nods. (Are we assertive or assertively sitting?)
(Credit: Wikimedia/Wikimedia)
Then there was the blue-steel moment, topped only by ...
(Credit: Wikimedia/Flickr)
... deep staring contests with birds.

(Photo: Kremlin/Flickr)
[h/t Amanda Pertrusich!]
Does your pet look eerily similar to Vladimir Putin? Show us! Send us your photos at submissions@thedodo.com so we can feature them on our site.