5,500 Portraits To Save Shelter Dogs
Every day, 5,500 dogs are killed in this country and our shelter system. My intention is to put the soul back into these animals that have been lost. I consider this project a calling because what preceded it was my own story of redemption, with the love of my dog Santina, being the much needed and heartfelt catalyst that brought me back to life.
Santina was 21 years old when she died, and both my partner (Marina) and I, were devastated. Marina was a cat lady and had never known the power of dog love until she met Santina, and immediately fell in love. So much so, that she went online to adopt another dog, but instead of finding a dog, she discovered the chilling numbers of animals being killed everyday in our broken and archaic shelters.
Appalled and compelled to do something about it, she insisted that I look at the graphic evidence and work with her to raise awareness and be part of the solution.
It would have been much easier to just turn away, but a force much stronger than us, ensured that turning away was not an option. Within two days, I had the vision to paint the approximate number of dogs killed everyday in shelters, to illustrate the problem and educate towards a no–kill solution. Soon after, An Act of Dog was born.
We're creating the first memorial museum of its kind in the world, designed to illuminate, educate and lift our animal welfare consciousness to new heights.
The museum will allow us to build a stable forever fund, that will distribute 100% of donations towards the salvation of shelter animals only.
Our charity is committed to the salvation of all healthy and adoptable animals and will be the only fund in America, giving 100% to support all shelter animal needs, shelter reform, rescue groups, fosters, transporters, groups fighting BSL and all the other people and organizations, who work hard on the front lines everyday, selflessly and without support.
See some of my paintings below.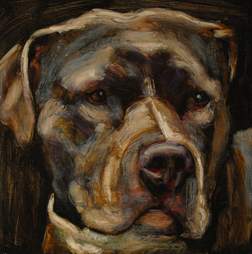 Tai. August 4, 2013 Joe. October 20, 2013
Apollo. November 21, 2013
Learn more about An Act Of A Dog below: