[Editor's note: At the end of 2013 there were 52 orcas living in captivity around the world. Every week this year, 52Orcas is profiling an orca so we can better understand his or her life history. Here are all the whales the group has featured so far in 2014 -- and come back each week to see the new featured orca.]

For over 50 years humans have developed relationships with captive orcas (aka killer whales). At the end of 2013, there were 52 orcas housed at various marine parks around the world. Each of these creatures has a unique history that we will document through a series of profiles: graphic representations of the international captive killer whale population. Every week we release a whale, sharing their unique story. Our goal is to honor the distinct identity of each of these majestic creatures.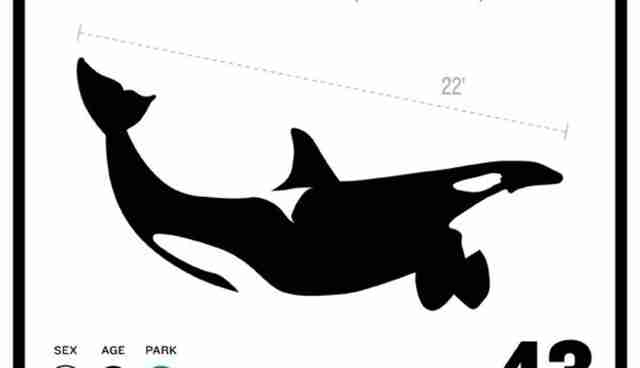 Since her capture at age two, Lolita has lived her life on display. Lolita's tank is 20 feet deep, the smallest in the US, and thus deemed illegal by federal government standards. She has no offspring and lives in isolation, without other orcas. Lolita's mother (L25) is still alive and her pod, in the northwestern waters of the Pacific, is currently listed as an endangered species.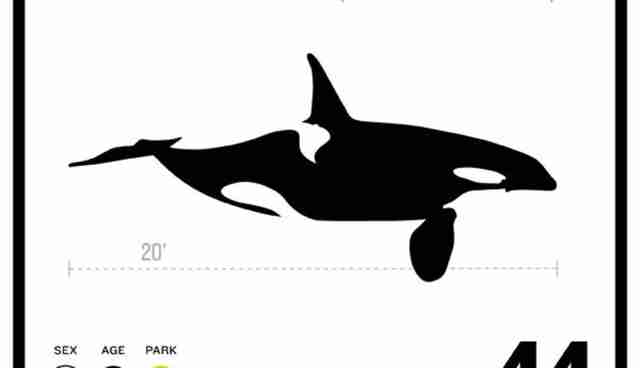 Of all the orcas currently living in captivity Corky is the oldest. She's also been there the longest, performing regularly under the stage name "Shamu." Although Corky has been pregnant several times, most of her pregnancies have resulted in miscarriage, and none of her offspring are still alive. Regarded as an extremely gentle whale, Corky is favored for working with novice trainers.
In her San Diego tank, Kasatka reigns supreme, showing dominance over her nine orca tank mates. Because she has extended this dominant behavior to her human trainers (including taking a trainer to the bottom of her tank against his will) trainers no longer enter the water with her. She is a mother of four and grandmother of three, and the ultimate matriarch of captive orcas.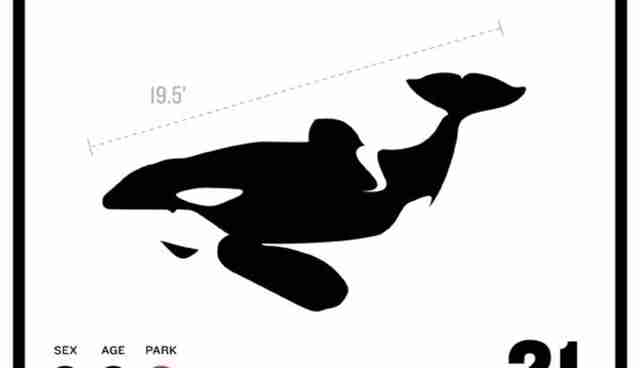 Kshamenk (pronounced "shah-menk") is a transient killer whale, the only type that prefers a diet of other mammals. Captured at age five, it is likely that he possessed basic hunting skills. His older age of capture combined with his transient nature may explain why Kshamenk has not bonded with his human trainers. Since 2000, when his companion Belen died while pregnant with his calf, he has lived without other orcas. Kshamenk's solitary lifestyle and small pool size have led to a petition for his release.
Kayla is the second oldest of all the orcas born in captivity. At age two, she was separated from her mother and shipped to different SeaWorld parks. Having never learned how to be a mother herself, Kayla violently rejected her first-born calf. Afterwards, she was moved to SeaWorld Orlando to be in the company of young orcas with their mothers. Kayla's human trainers regard her as a master of all show behaviors, but to her spectators, Kayla is most known for her striking blue eyes.
Freya is named after the Norse goddess of fertility and love. Despite her namesake, out of five pregnancies, just one calf survived: Valentin, with whom she is very close. She experienced moodiness following each stillborn, which may indicate depression. Freya has a unique appearance, with a dorsal fin that leans to the right, and a white scar on her side from a tumor that was removed. A YouTube video of her attacking a trainer during a 2008 performance has been viewed by over 6 million people.
Much like orcas in the wild, Valentin has a strong bond with his mother Freya. Since his birth on the eve of Valentine's Day in 1996, the pair is often seen interacting and performing together. Valentin stands out for being a gentle whale and for having a dorsal fin that is not fully collapsed, a rare quality in captive male orcas. Unfortunately, he is also known for having a pronounced skin condition located beneath his chin.
An adult female orca was recently captured off the coast of Russia along with a young male and a juvenile female. Netted, taken ashore, and trucked to a captive sea pen, these whales are now a part of the limited orca captures allowed annually in Russia. It is suspected that she is the mother of the two young orcas. If true, the group was recently separated when her young were sold and transported to an aquarium in China.
Morgan, found alone and emaciated off the coast of the Netherlands, was captured under the agreement that she would be returned to the ocean once rehabilitated. Instead, Morgan was shipped to the marine park Loro Parque in Spain where she now performs in their shows. Covered in teeth marks and other injuries, experts have testified that the other Loro Parque orcas attack Morgan. In the coming weeks, the High Court judges in Den Haag will issue their final verdict on Morgan's release. Find up to date details on Morgan's trial here: http://www.freemorgan.org/
At a year old, Stella was captured along with three other young whales from her pod. After losing her last pod mate and closest companion, the once gentle Stella became withdrawn and aggressive refusing to perform for her trainers. The birth of her first daughter is attributed to calming Stella and helping her recover from her friend's death. Back to her friendly nature, Stella is now a grandmother and lives with two of her four calves.
Takara is regarded as one of the most playful and intelligent orcas in captivity, where she excels at energetic and cooperative performances. As a captive born "Baby Shamu," Takara formed a tight emotional bond with her mother, Kasatka. After 13 years of swimming and learning together, that bond was severed when Takara was taken to another facility. Unlike other adult captive orcas, Takara has maintained her lively and youthful attitude towards trainers and guests, a trait said to have been passed on to all four of her calves. Today Kasatka and Takara swim in separate tanks 1,200 miles apart.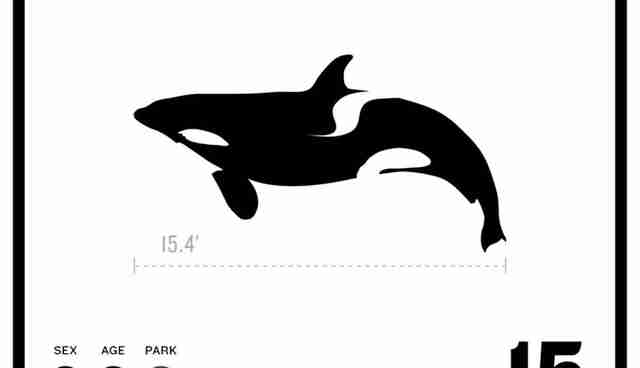 Inouk is a captive born male orca with 100% Icelandic DNA. From a young age, Inouk was intensely curious and known for sizing up human visitors through the glass walls of his tank. Apparently, Inouk's growth is stunted. His size is comparable with female orcas much younger than himself, and he has an unusually short dorsal fin. During the birth of his sister, Inouk helped his mother through the delivery, a duty normally performed by the dominant female of a captive "pod." Since the death of his mother, Sharkan, Inouk has become the leading performer at Marineland.
Katina is the first orca in history to successfully birth and raise a calf in captivity. Today she boasts a robust bloodline of children, grandchildren and great grandchildren scattered in tanks around the globe. Ever the protective mother, Katina will separate her calves from their trainers during certain behaviors. Katina's motherly nature comes to the aid of her trainers as well, by swimming between them when the calves become aggressive. Patient, good-natured, and easy to work with, Katina is a reliable performer earning her the nickname "Cadillac" among her trainers. She is a dominant whale and as matriarch holds a strong influence over the orcas who share her Orlando home.
Each week, 52Orcas will feature a new whale. You can see them all here.