These 5 Aquariums Are Just As Bad As SeaWorld
SeaWorld finally ranks as number one ... of the worst places in North America for dolphins and whales, that is.
That's according to a new list just released by the animal welfare organization In Defense of Animals (IDA). Each year, marine mammal experts examine facilities across the continent through in-person investigations, reviews of government and veterinary records and animal death reports, according to IDA. Then they formulate the list of tanks that really, well, tanked.
That SeaWorld is worst of all might come as little surprise for people who have been following the fallout since the documentary "Blackfish" was released in 2013.
But here are the five tanks in North America that are pretty much as bad as SeaWorld for whales and dolphins:
Couched in the tourist hotspot of Niagara Falls, in Ontario, Canada, Marineland is home to Canada's last captive orca, Kiska, who was caught from the wild in Iceland as a baby. Now in her 40s, Kiska has outlived 17 other orcas and lives all alone in her tank.
And that's not the only sad story to come out of Marineland. The 46 beluga whales who live in its tanks aren't in very good shape, alleged Last Chance for Animals (LCA), an animal activist group, in a five-month undercover investigation released earlier this year. The group states beluga whales had been neglected and were found fighting with each other inside the park.
Marineland denied the findings of the LCA investigation, suggesting it was politically motivated, aimed at banning marine mammal captivity. The Ontario Society for the Prevention of Cruelty to Animals (OSPCA) conducted an investigation of LCA's allegations and cleared Marineland, but did not release its findings to the public.
A beluga whale at Marineland

| Last Chance for Animals (LCA)
Since IDA issued its list of worst tanks, Marineland called IDA an "unknown" and "radical" organization.
"To be clear, this 'group' seeks only one thing - 'celebrity' and media attention," a representative with Marineland's marketing department told The Dodo. "This 'group' never visited Marineland, never contacted Marineland ... and lack[s] any expertise to provide a credible opinion on the condition of any animal or facility."
Still, animal welfare advocates have pointed out that the number and density of whales at Marineland are at odds with the whales' natural tendencies to live in small groups. "Belugas in open water can cover thousands of kilometers over a few months and can swim at a rate of up to 6 kilometers per hour and to depths of 600 to 1000 meters," Lori Marino, neuroscientist and marine mammal expert, told The Dodo earlier this year.
One thing is for sure: The belugas at Marineland enjoy no such distances, even if Marineland claims its tanks "are the largest at any aquarium in the world."
Catering to the tourists and spring breakers who flock to Cancun, Mexico, Puerto Aventuras Dolphin Discovery, in nearby Quintana Roo, allows visitors to swim with captive dolphins. However, many tourists may not be familiar with the dark side of swimming-with-dolphins facilities. Puerto Aventuras may not be the dreamy dolphin experience for which a naive tourist might have hoped.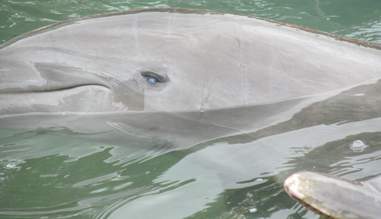 A dolphin at Puerto Aventuras Dolphin Discovery

| Semillas de Consciencia and Tribe of Gaia
"While tourists may expect turquoise-clear waters in the 'large' enclosures advertised by the facility, they will instead see a murky aquatic cage full of dolphins," IDA reported. "The pens share water with an adjacent active boat marina where pollution from feces, motor oil and petrol abound. The water is apparently so filthy that children participating in the dolphin 'swim-with' program are asked to avoid getting water in their mouths."
IDA also observed the dolphins exhibiting stress-related behaviors, such as pushing against the sides of their enclosures. Some dolphins had visible facial wounds.
Dolphin Discovery owns this destination, as well as the swimming-with-dolphins facility operating out of Six Flags Mexico (number five on this list) - and over 20 more facilities like it around the world.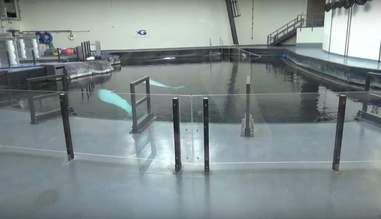 A beluga whale tank at Georgia Aquarium

| Georgia Animal Rights and Protection
Georgia Aquarium, in Atlanta, fought for years for the right to import wild Russian beluga whales to plonk into its tanks. These 18 beluga whales were going to be split up with SeaWorld, until SeaWorld backed out of the deal. Then, a U.S. judge struck the entire plan down.
Finally the aquarium tried to turn this loss into a win, pledging in June never to capture wild marine mammals and put them in tanks again.
"We feel strongly we were doing what was right and lawful," the aquarium's statement read. "However, we believe NOAA's decision is precedent-setting and could be challenging for any future requests for acquisition from ocean-dwelling populations."
The aquarium doesn't have a great track record when it comes to keeping beluga whales in tanks. "We call Georgia Aquarium the 'dying pool' owing to three beluga whale deaths at the facility between 2012 and 2015," IDA reported.
The aquarium also owns a dolphin facility in St. Augustine, Florida. Over a dozen dolphins are held at Marineland Dolphin Adventure (not to be confused with number one on this list) so the public can enjoy "hands-on" dolphin shows. Five dolphins have died there between 2012 and 2015, IDA reported.
Mike Leven, chairman and CEO of Georgia Aquarium, responded to the list and, echoing other aquariums' responses, critiqued the roundup based on the kind of organization IDA is. "This is an activist-driven organization that leads only with the forethought of removing all cetaceans from accredited zoological facilities," Leven told The Dodo. "Without accredited zoos and aquariums, millions of people would not be able to learn about thousands of aquatic species and, in turn, respect and conserve them."
Lolita is a 50-year-old orca who lives alone in the tiniest orca tank in America at the Miami Seaquarium. She has been there for the past 46 years.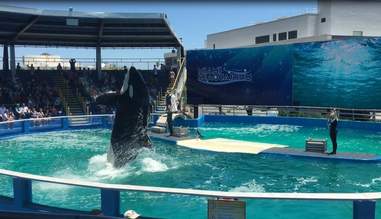 Lolita lives in the tiniest orca tank in America.

| Paul Derdzinski/IDA
Advocates who are fighting for Lolita, urging Miami Seaquarium to release her into a sea sanctuary, suffered a setback earlier this year, when a judge dismissed their case.
"This ruling allows Miami Seaquarium to continue harming the long-suffering orca Lolita by confining her to a tiny tank, subject to harassment from incompatible animals, with no companionship from her fellow species and little respite from the hot South Florida sun," Howard Garrett, co-founder of the Orca Network, wrote on Facebook after the ruling.
The Miami Seaquarium is also home to 32 captive dolphins who are forced to perform in shows and give "kisses" to tourist after tourist.
This popular amusement park chain also runs a dolphin discovery program at its park in Mexico City. Six Flags Mexico's dolphin exhibit is owned by Dolphin Discovery (the company that also runs number two on this list). The dolphins here are forced to "kiss" and "shake hands" with amusement park visitors, as well as perform shows. It's basically a circus, but the intelligent mammals being exploited are dolphins in tanks instead of elephants.
"Beneath the glitz, glamor and dolphins' permanently fixed 'smiles' is a world of pain and suffering in these brilliant and complex mammals of the sea," Toni Frohoff, cetacean scientist for IDA, said in a statement provided to The Dodo. "SeaWorld and other aquariums deprive whales and dolphins of the lives they've adapted to live for millions of years in the wild, and steal from them what we value most: freedom and family."
A dolphin show at Six Flags Mexico City

| Martin Lewison/IDA
But the Association of Zoos and Aquariums (AZA) is suspicious of IDA's roundup, issuing a statement in defense of AZA-accredited aquariums:
"The AZA rejects any list created by personal beliefs and innuendo rather than hard science and data," Kris Vehrs, interim president and CEO of AZA, said in the statement. "AZA-accredited aquariums and zoos are experts in cetacean care and species conservation, providing researchers unprecedented access to species and data, which is often impossible to gain from field research ... AZA-accredited aquariums and zoos provide guests an opportunity to see, learn about, interact with and develop a personal connection with animals they might never see in the wild, like dolphins, beluga whales and orcas."
However, the only tank on this list accredited by the AZA is Georgia Aquarium. In IDA's longer list of the 10 worst, AZA accredits just four, including SeaWorld.
Since "Blackfish," consumers are increasingly more likely to give up dolphin and whale "experiences" for the sake of the animals' welfare. There's still a long way to go in improving how people treat intelligent marine mammals like whales and dolphins.
But there is hope. Recognizing that no tank is good enough to house such complex wild animals like dolphins, the National Aquarium in Baltimore, Maryland, announced this year that it will retire its captive dolphins to a sea sanctuary.
And let's not forget, even SeaWorld has started to turn things around. Earlier this year it announced it would never breed another orca in captivity again.
Learn how you can make a difference for captive marine mammals here.