The 5 Worst States To Be An Animal
There's a growing sense of late that the animals with whom we share our homes, our hearts and our planet are more than merely animate objects, but rather creatures worthy of our compassion. In recent years, great strides have been made in statehouses across the country to ensure that nonhumans are protected against the worst humanity has to offer.
But in some states, such as Kentucky - ranked worst in the nation - animal welfare laws are still woefully lacking.
For the ninth year in a row, the Animal Legal Defense Fund (ALDF) has analyzed thousands of data points regarding animal protection laws and enforcement to determine which states let animal abusers off the easiest.
"The bottom-tiered states have inadequate standards of basic care for animals, limited authority given to humane officers, and lack of mandatory reporting when veterinarians suspect animal cruelty," writes the ALDF in a press release.
Here are the five worst states to be an animal:
50. Kentucky
For the eighth year in a row, the ALDF has ranked Kentucky the very worst state for animal protection laws, pointing to a lack of felony provisions for cruelty and abandonment cases, save for a few select animals. Those convicted of animal cruelty are also not required to have mental health evaluations or counseling, and are not restricted by law from future animal ownership.
49. Iowa
Despite having been at the center of several high-profile factory farm animal abuse cases, the state continues to cling to ag-gag laws aimed at preventing undercover investigations of animal cruelty on farms, effectively silencing those who would try to speak for the voiceless.
48. New Mexico
The ALDF cites New Mexico's inadequate felony provisions for animal neglect and lack of any such provisions for abandonment as reasons why the state ranks among the nation's worst for animals. Offenders are also not required to undergo mental health evaluations, nor are peace officers even obligated to enforce animal welfare laws.
47. Utah
After Iowa, Utah is home to some of the most strictly enforced ag-gag laws in the country, though a pending court challenge to that legislation is underway. Currently, felony charges are nonexistent for cases of animal neglect, abandonment or fighting.
46. Wyoming
In Wyoming, felony provisions are in place for animal cruelty cases involving only select animals, and none exist for incidents of neglect or abandonment. The ALDF says the state's definitions of "basic care" for animals is inadequate, noting that peace officers are under no duty to enforce existing animal protection laws either.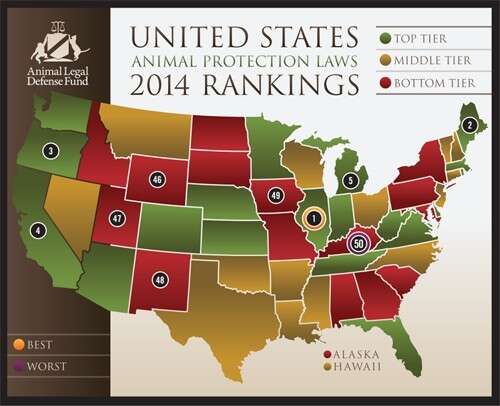 Overall, animal protection laws are improving nationwide. According to the ALDF, more than half of all states have made "significant improvement" in terms of anti-cruelty laws since the group began compiling their rankings in 2006, though the push to ensure that every animal is protected is far from finished.
"There is room for growth in every jurisdiction," says Stephen Wells, executive director for the ALDF. "Animals don't vote, but those who advocate for animal protection do, so ALDF hopes lawmakers will recognize the need for serious progress in animal protection laws across the nation."