5 Daring Rescue Pups Who Later Rescued Their Humans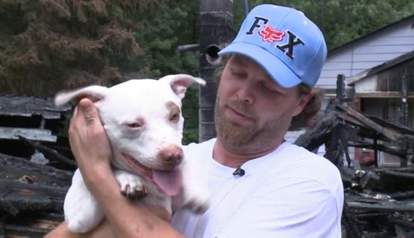 Rescue dogs occasionally get a bad rap - people believe that they must be unpredictable or damaged in some way. In actuality, rescue dogs are some of the greatest, most loving pets around. Here are five rescue dogs who not only brightened and enriched their owners' lives, but they also actually saved them.
1. Hunter, a husky mix who was adopted in February from the Michigan Humane Society, woke his owners a few weeks after his adoption by whining. Owner Jill McLarty tried to take the puppy outside, but it didn't stop Hunter's crying. The pup started running in circles until McLarty followed him to the kitchen, where the puppy sat next to the stove, still crying. It was then that McLarty noticed that one of the gas burners on the stove had been left on. She estimates that the gas must have been on for roughly six hours. Her husband Tim says, "(Hunter) saved our lives ... Anything could have happened that night."
(Michigan Humane Society)
2. Tiger, a rescued pit bull mix, left his Toledo, Ohio, home one Saturday to seek out one of his owner's neighbors. Tami Michalak, the neighbor, knew that Tiger never wandered away from his owner's house, and Tiger was whining loudly, so she was curious as to what was going on. She followed Tiger back to his house, where she found Tiger's owner, Todd Kibbey, unconscious on the back porch. Thanks to Tiger, Kibbey was rushed to the hospital where he made a full recovery.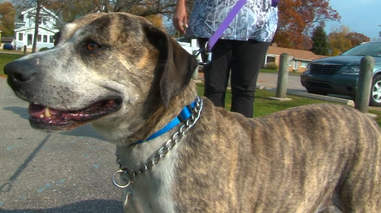 (Toledo News Now)
3. When Ohio resident Jacob Martin adopted Buddy, a former stray who had been found on an abandoned property, he likely didn't forecast that Buddy the dog would save his life. Buddy woke Martin one night by barking incessantly. Martin soon discovered why - the empty house he had been renovating right next door had caught fire, which was spreading rapidly. Luckily, Buddy's barking managed to give Martin enough time to escape and prevent any damage to his own home.
(Daily News)
4. When 3-year-old Carson Urness disappeared from his backyard in Cooperstown, North Dakota, one night, his family and local townspeople were all frantic. However, his mom, Courtney, soon noticed that Carson's dog, Cooper, was also gone. She hoped that the dog was still with Carson, and that maybe if they found Cooper they would also find Carson. Sure enough, the search team found Carson with Cooper lying on top of him, protecting him and keeping him safe. "He came up to me today and he goes, 'Mom I was really scared, but Cooper laid on me. He kept me warm,'" Courtney told Fox-8. Carson's family had rescued Cooper from the side of the road when he was just a puppy.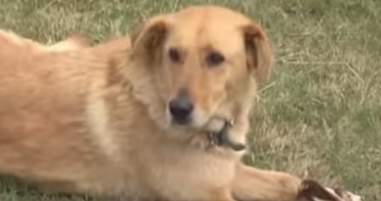 (YouTube: Mario Tachinardi)
5. Major, a Labrador retriever pit bull mix, was initially rescued from a hoarder by an organization called Stiggy's Dogs. He found a forever home with U.S. Marine Terry McGlade, who had experienced seizures and PTSD after being injured in Afghanistan. As a trained rescue, Major was there to look out for McGlade in case he had a seizure while he was home alone. Sure enough, when McGlade had a seizure, Major saved his life by pulling McGlade's iPhone out and calling 911 - a total of TEN TIMES. The emergency workers initially thought the call was a prank, but they decided to investigate. Thanks to Major, McGlade recovered and is alive and well.
(Facebook: Debbie G Mcglade)