Man Spent $40 And Changed The Life Of His Girlfriend's Dog
Like many skeptical little dogs, Benny had never been a huge fan of his owner's boyfriend, 22-year-old James Stewart Paniagua - but that's all begun to change.
A few weeks ago, Benny began showing signs of paralysis in his rear legs, worsening to the point where he could no longer walk. When a veterinarian informed Paniagua and his girlfriend that corrective surgery would cost a whopping $8,000, the young couple was desperate to find an affordable alternative.
James Stewart Paniagua
For Paniagua, finding a way to help the pup was particularly important as it might help smooth over their chilly rapport.
"Believe it or not, Benny has always been indifferent about me and I could never pick him up, but when I saw what happened to him, it hurt me to see him in pain," Paniagua told The Dodo. "Part of me felt like I could reach out to him and show him I was here for him so he could eventually warm up to me."
James Stewart Paniagua
Paniagua initially had hoped to find a custom wheelchair to improve Benny's mobility, but quickly discovered they were all beyond his budget - each costing at least $1,000. Still, he refused to give up on helping Benny. Instead, he got creative.
"The only other solution I could find was to make my own [wheelchair]," Paniagua said. "There were a couple DIY wheelchair examples on Google Images which I used as an example!"
Sure enough, Paniagua soon bought what he needed to put together a custom wheelchair made from PVC pipe for his girlfriend's dog - all for a mere $40.
James Stewart Paniagua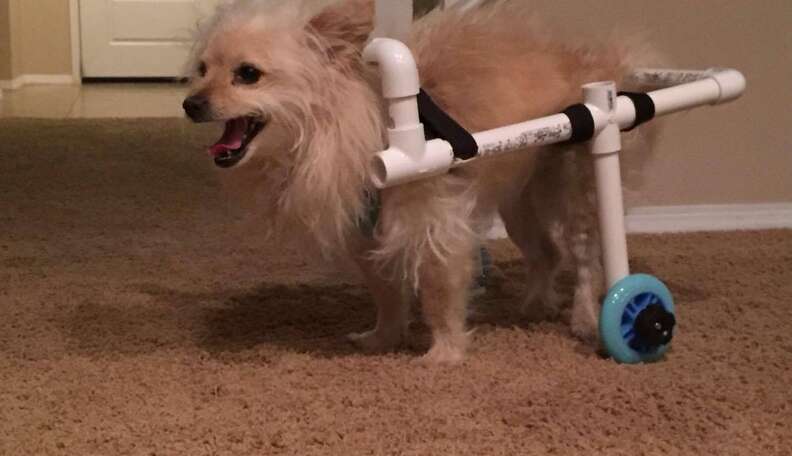 Since being fitted with his perfect custom set of wheels, the little dog has shown a huge improvement - both in his mobility, and his feelings toward his owner's boyfriend.
"Benny is a lot more excited than he was before, his legs are still having problems and you can tell that he's a ton happier being able to move around a little more!" said Paniagua. "And he's a lot more happy to see me lately!"
Check out Benny in action:
Well done, Paniagua and Benny! We wish you both all the best.