Bodies Of 40 Tiger Cubs Found In Freezer Of 'Tiger Temple'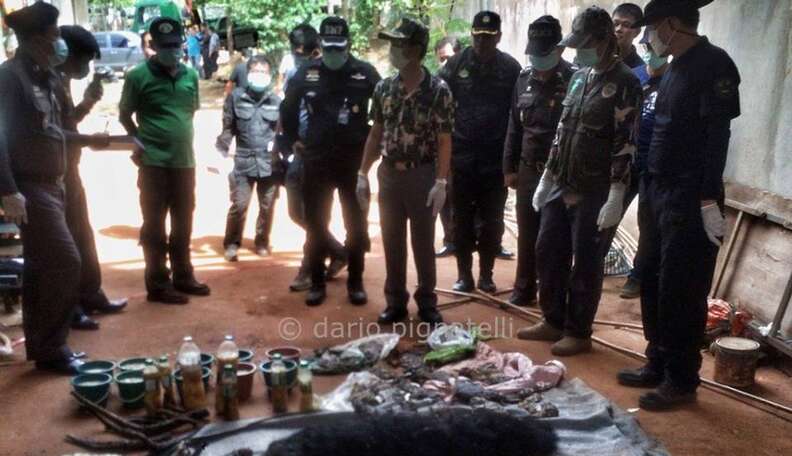 <p><a href="https://www.facebook.com/WildlifeFriendsFoundation/photos/ms.c.eJwzNDA0NTYxtzAxsjAzNzczNdczRIgYYIgYGRihiZgbYYiYgkQALaYSGQ~-~-.bps.a.10153478428027657.1073742127.28211827656/10153478428202657/?type=3&theater" target="_blank">Facebook/Wildlife Friends Foundation Thailand</a></p>
<p><a href="https://www.facebook.com/WildlifeFriendsFoundation/photos/ms.c.eJwzNDA0NTYxtzAxsjAzNzczNdczRIgYYIgYGRihiZgbYYiYgkQALaYSGQ~-~-.bps.a.10153478428027657.1073742127.28211827656/10153478428202657/?type=3&theater" target="_blank">Facebook/Wildlife Friends Foundation Thailand</a></p>
In the midst of tiger mistreatment and wildlife trafficking allegations, 40 dead tiger cubs (estimated to be 1 or 2 days old when they died) were found in a freezer at the temple on Wednesday, BBC News reports. Photos of the saddening discovery have started to spread on social media.
WARNING: The following images contain graphic content.
"As [it] happens in life, cubs do occasionally die for various reasons, most often when a new mother lacks the experience to properly care for them," the Facebook post reads. "We have documented all the deaths from 2010 and have photographic evidence of them still being within the temple." The temple also claims in the post that it has never forced its tigers to breed.
Documentation of the tiger cubs' birth and deaths allegedly shows they were never on sale in the black market, representatives of the temple told the New York Times.
Tigers are an endangered species and their estimated global total in the wild stands at 3,200, with a jarring 7,000 estimated to be in captivity in China, Laos, Thailand and Vietnam, according to the Environmental Investigation Agency (EIA). Tiger farming in these countries is a "major concern" Shruti Suresh, EIA Wildlife Campaigner, told The Dodo in a statement.
"Several of these facilities are implicated in tiger trafficking. If we are to save the last remaining wild tigers, we need to end all trade in all tiger parts and products urgently and this includes ending trade in captive tiger specimens," Suresh said.
Tiger body parts in particular are highly valuable in Asia, where they're sold on the black market to be used in traditional Chinese medicinal practices, such as tiger bone wine, a "potion" made from the bones of tigers that is believed to make its consumers strong and virile.
Charges are to be filed against the temple for keeping the bodies of the dead tiger cubs without permission, AFP reports. If temple officials are found guilty of smuggling the remains of the tiger cubs, they can be fined up to $1,121 or jailed for four years, CNN reports.
As of Wednesday, 100 tigers have been removed from the temple, with less than 40 remaining. The relocation effort is expected to finish by the end of this week.