A Week For Every Whale #33. Lara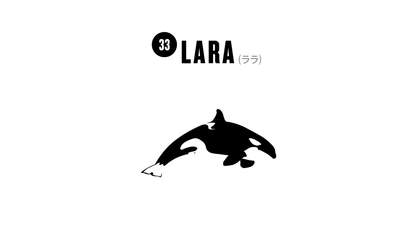 Editor's note: At the end of 2013 there were 52 orcas living in captivity around the world. Each week, 52Orcas profiles an individual orca so we can better understand his or her life history. You can see the entire project on the 52Orcas Dodo page here.

Lara is the second killer whale born in captivity in Japan, the first being her older sister Lovey. Being born to wild captures Bingo (father) and Stella (mother), Lara's DNA is 100 percent Icelandic. In captivity, Lara played a role very similar to that of a wild female orca. For example, Lara assisted her mother and sister during their pregnancies and while giving birth. Her caretakers at SeaWorld refer to Lara as an outstanding aunt to her niece, Luna, and nephew, Earth. In the wild, this pod of whales would live as a close family their entire lives. In captivity, however, Lara's mother, father and two siblings were transported to a different marine park.