33 Animals Already Dead Since Broken Ship Put 13,000 Lives At Risk
Originally destined for Israel, the ship encountered technical difficulties and sat just off the coast of Australia, in sweltering summer temperatures, since December 29 - with 13,000 live sheep and cows on board.
Once news broke, their plight sparked controversy about what to do with the weakened animals still struggling to survive.
While 7,400 sheep were allowed to disembark to a nearby feedlot, Otway Livestock Exports decided to go through with a contingency plan to ship some of the remaining animals to South Asia to be killed. It is not yet clear whether the sheep will be bound yet again for another perilous voyage, or whether they will be slaughtered in their home country.
"The cattle will have been onboard the Ocean Outback for two weeks by the time they finally depart for South East Asia," the RSPCA said in a statement. "Under the power of a single engine, this is likely to be a long journey. This is a wholly unacceptable situation and again demonstrates the inherent and unavoidable risks of the live animal trade."
The Ocean Outback's massive failure brings to light the dangers of shipping live animals to their deaths, a common practice in Australia.
The animals who are products of a live export business have been shown to meet especially cruel ends when they're slaughtered. Investigations conducted by Animals Australia have shown animals being bludgeoned to death and having their throats slit while fully conscious.
Local animal advocates gathered by the port to speak for the animals on board.
Animal advocates gather to protest the live export business in Fremantle harbor.Sheldon B. Ang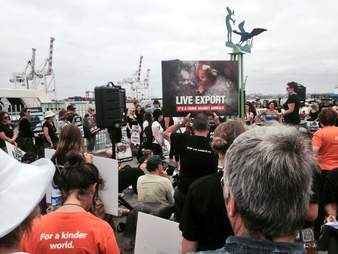 Animal advocates gather to protest the live export business in Fremantle harbor.

| Sheldon B. Ang
After conducting an inspection, Australia's Department of Agriculture said in a statement that "the animals were being provided appropriate standard of care and there were no breaches of the Animal Welfare Act 2002 identified."
The deaths of the animals onboard, and the days of suffering endured by those 13,000, is just business as usual for the live export business.
Click here to learn how you can take action.
Have a tip? Email sarahv@thedodo.com.