A Week For Every Whale: #30. Bingo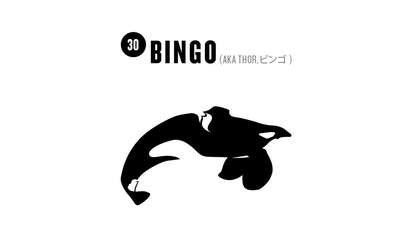 Editor's note: At the end of 2013 there were 52 orcas living in captivity around the world. Each week, 52Orcas profiles an individual orca so we can better understand his or her life history. You can see the entire project on the 52Orcas Dodo page here.
Bingo swam for 30 years in captivity entertaining marine park visitors. He was born free in the oceans of Iceland but died in a tank in Japan. Bingo's trainers knew him as a very calm orca who was highly reliable for waterwork shows. During his three decades of life as a captive orca, Bingo fathered five daughters and two grandchildren, making him the most successful breeder in Japan. Bingo lived at three different aquariums, spending the last three years of his life at Port of Nagoya Aquarium. At the time of his death, Bingo lived with his mate Stella and their two daughters Ran (eight) and Rin (one). This gentle orca will be greatly missed.