25-Year-Old Cat Finds Perfect New Home
<p>Sandi Smith</p>
<p>Sandi Smith</p>
Tiger the cat had lived with the same family since she was a kitten. At 25 years old (about 117 in human years), she was ready to live out her retirement days in peace - until she was given up after her owner developed health problems.
The cat suddenly found herself homeless after so many years in a loving home.
The senior cat ended up at Lee County Domestic Animal Services in Florida. With so many kittens and younger cats to compete with, it seemed Tiger might not have the greatest chance - but her senior charm and wisdom won someone over.
Big Hearts For Big Dogs Rescue in Florida heard about Tiger's plight and, even though it normally takes in dogs, decided to step up to help. The group rescued Tiger from the shelter and found her a forever home with one of its former adopters, Sandi Smith.
"I decided to adopt Tiger the moment I saw that she was 25 and spending her last days in a cage," Smith told The Dodo. "To me that was unacceptable. To go from being obviously so loved by her previous owner since she was a kitten to this was totally inconceivable to me."
Smith is the absolute perfect mom for Tiger - because of what she does for a living. Smith owns an antique store called Paris Market Antique Mall in Fort Myers, Florida, and that is where Tiger will live out the rest of her days.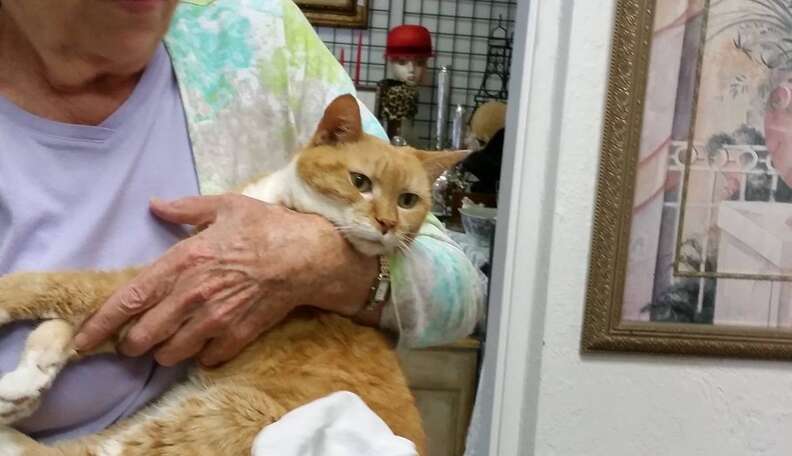 An antique store with an antique cat. What could be more perfect?
Tiger is slowly adjusting to her new life as a store cat, and seems to be loving it so far. "She is so gentle and very loving," Smith said. "She does have the run of the place, but seems to prefer just a few rooms where she is comfortable. She comes out more and more as she gets used to her new home."
People in the area heard about Tiger's story, and have now started coming into the store just to see her. Tiger is completely unfazed by her new celebrity status, however, and prefers to find a place to sleep away the days instead.
If you'd like to adopt a cat of your own, you can check out Adopt-a-Pet.com for more information.